Marked Tree Chamber moving forward on mural
Thursday, July 17, 2014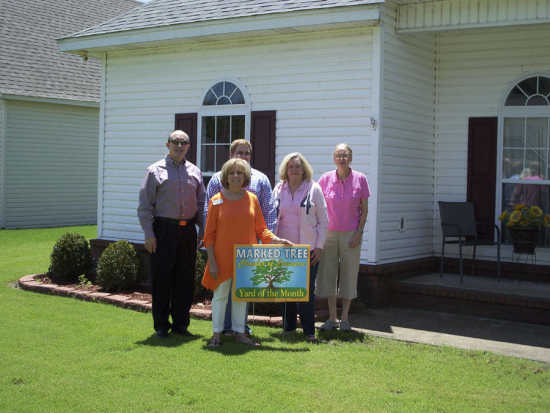 Marked Tree will soon have a mural at the railroad underpass on Nathan Street. During the Marked Tree Chamber of Commerce's monthly meeting Tuesday, the chamber discussed ideas submitted for the mural.
Chamber President Sandy Teague said the city fire department had sprayed and cleaned the underpass. Painting of the base coat for the underpass started Wednesday, and painting of the mural will start after that is finished.
Chamber members heard several different ideas for the mural design and discussed doing a river with a canoe and a tree marked with an "M," a design featured on a past chamber t-shirt. Members also discussed the possibility of including the Marked Tree Siphons and a cotton field in the design, with the mural possibly taking up both sides of the underpass to present the past of Marked Tree on one side and the future on the other. The design will be finalized soon, and Marked Tree art students will paint the mural.
Chamber members also announced the Yard of the Month for June, belonging to Gary and Jeannie Williams.
The chamber also welcomed a new member, Danny Partlow, who is the new pastor at First United Methodist Church.