Fine Arts Council hosts successful dinner
Monday, July 28, 2014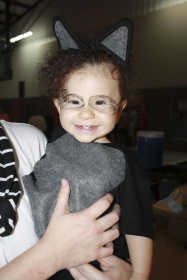 The Trumann Fine Arts Council hosted their Annual Celebrity Waiter Dinner on Thursday, July 17, with several celebrities in attendance for a good cause.
The Lions Club, Trumann School District, First Baptist Church, Crye-Leike and other businesses and organizations around Trumann sponsored tables at the event. Individuals from those organizations dressed as celebrities for a night of entertainment and laughter. Among the celebrity waiters were the Robertson family, the Beverly Hillbillies, Hulk Hogan, and the Beach Boys.
The dinner is held each year as a fundraiser for the Maxie Theater in Trumann. In late 2012, the Maxie Theater was donated to the Fine Arts Council by the late Pauline Noel. Since then, the council has worked diligently to raise funds for the restoration of the Maxie. The council plans to have events in the Maxie that will be beneficial to the community culture.
Any donations to aid in the restoration of the Maxie may be sent to P.O. Box 185, Trumann 72472.