Volunteers work to save Trumann strays
Monday, July 28, 2014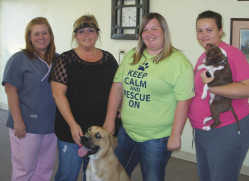 A group of volunteers is working to make sure stray dogs in Trumann find good homes. According to Dayna Gossett, the group Trumann Arkansas Pet Savers (TAPS) got started after a group of animal lovers in town got together over issues of overcrowding at the pound and the fact that people cannot go out to the pound because of its proximity to the police firing range.
After the group spoke to the city council and the mayor, things started all happening at once. "Trumann as a whole came together as Trumann always does," Gossett said.
As a result of that meeting, TAPS was formed and plans for a new, more pet and people friendly animal shelter were put in place. TAPS consists of a core group of seven volunteers who are highly involved and several others who contact these volunteers to share posts, alert them about strays, or make donations.
TAPS coordinates with Trumann's animal control officer, who notifies them when a dog at the pound is reaching the 10 day limit before they are required to be euthanized. TAPS picks up the dog and takes them to Trumann Animal Clinic to be checked for microchips and be treated for minor problems. Then the dogs are fostered until they can be spayed or neutered. Then they are ready for adoption.
Candice York, another TAPS volunteer, said the group provides food and bedding to anyone wishing to foster a dog until it can be adopted. Adoption requires a home check. "It doesn't matter that you have a nice home. What we're looking at is: is it going to be a safe and loving home," Gossett said.
It's costs $150 to adopt, but the dogs come fully vetted courtesy of Trumann Animal Clinic. "I dare anyone to take a dog to the vet and get that done for that amount of money," Gossett.
People can also sponsor a dog with a $150 donation which covers spaying or neutering, shots, and the vet check-up. Gossett said the group is in need of donations because several of the dogs are heartworm positive. Donations can be made at Trumann Animal Clinic (870-483-6275), Unico Bank in Trumann, or at donation jars in various businesses.
TAPS has both a facebook page and group, and volunteers Dayna Gossett, Candice York, Christian Russell, Nicole Kelly, Britt Austin, Brittany Smithson, and Hollie Stevens can all be contacted through private message.
Anyone thinking of adopting a dog is encouraged to contact a TAPS volunteer. "Tell us your situation, and we'll tell which dog would be best for you," Gossett said. "We've had a bit of success doing that."
So far, the group has saved 26 dogs. Gossett said once the new shelter is built, it will have 18 stalls, and there will be scheduled times people can come look at dogs. There will also be times for volunteers to come out and play with the dogs. "We want to work with the city to make this our community pound," Gossett said. "We can't thank the mayor, the council, and the police enough for all their help. They are a blessing."
People wishing to foster or adopt also need not be from Trumann. "We've had people volunteer to foster from Jonesboro and Harrisburg. You do not have to live in Trumann," Gossett said.
If anyone sees a stray, they can send a picture to TAPS, but should contact the police as well because only they can actually pick up the dog.