Baine remembered by Tyronza community
Friday, August 8, 2014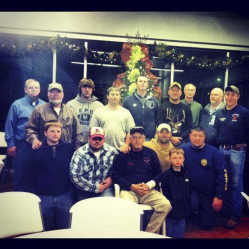 Thomas "Tommy" Baine passed away on Thursday, July 31, at the age of 61, but he will be fondly remembered by community members of Tyronza.
Baine spent 38 years with the Tyronza Fire Department, nine of them as Fire Chief, served on the Tyronza City Council from 1983-1988 and again from 2011-2014, served on the Stars and Stripes Committee, was a member of the Sunken Lands Chamber of Commerce, worked as an EMT, was active at First Pentecostal Church, and was named Citizen of Year a couple years ago.
Tyronza Police Chief Tony Turner was a close friend of Baine's. Turner said he first met Baine when he moved to Marked Tree in 1997. The two worked as EMTs for Riverside Ambulance and later worked together at the Tyronza Fire Department. Turner said they would often work 48-72 hour shifts together and grew very close as a result.
"Tommy was never one to complain, regardless of how many hours we had been in the truck," Turner said. "He was always willing to be there for anyone who needed help."
"I very seldom saw Tommy without a smile on his face or trying to put a smile on someone's face," Turner said.
Turner said Baine always did everything he could for the fire department as well by striving to get the best equipment he could and making sure things ran as smoothly as possible. Baine was instrumental in updated the department's equipment and making sure the firemen had the best training.
"He cared about people in this town. He cared about the city. He's definitely going to be greatly missed. He just impacted so many lives," Turner said.
Turner said Baine cared for the community so much that when he retired from the fire department the first time, he stayed away for two weeks before he got back into it. Baine retired a second time in 2013 due to health issues, but never stopped caring about helping others.
"There would be days when I hadn't seen Tommy all day," Turner said. "I would be on a traffic stop, and I would look up and see Tommy parked on the side of the road. He was there because he cared about me, and should something happen, he'd be there."
"When he started getting sick, he was so weak he couldn't lift a stretcher, but he still wanted to make ambulance runs, so we got another fireman to go with us," Turner said.
Tyronza Mayor Marion Bearden said Baine was also a close personal friend of hers, and his passing was a great loss for the community. "He was a special person," Bearden said. "He was one of the most caring individuals I ever came across. Between he and I, we went through some tough times together, but he always said it would be okay."
Bearden said she last talked to Baine over the phone the night he passed away, and Baine had agreed to continue serving on the city council as long as he possibly could. "He was a strong person. I don't know a lot of people who would continue being positive with as many health issues as he had," Bearden said. She said two words that came to her mind when trying to describe Baine were: faithful servant.
Linda Hinton worked with Baine through the Sunken Lands Chamber of Commerce. She said he was always ready to help. One of his big projects with the chamber was to drive the truck at the tail end of the Tour duh Sunken Lands Bike Ride to make sure all the riders were okay.
"He was always excited to do things for the community," Hinton said. "He loved the community. He loved this area and wanted to see it grow." Hinton last spoke with Baine Sunday when he told her he had a goal to make another ambulance run in the next six months.
Chief Turner said Baine was such a big part of the community, it would be tough to get used to him being gone. "As far as replacing him, it's not going to happen," Turner said. "We'll have to get used to him not being there."