Edith Brown
Wednesday, August 13, 2014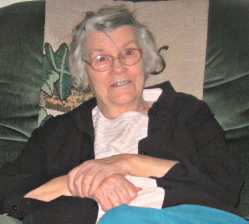 TRUMANN - Edith Arlene Snearly Brown, of Trumann, formerly of Harrisburg, departed this life on August 5, 2014 in West Memphis, at the age of 83.
She was born October 25, 1930 in Jasper, Ark. to Alva Olen and Alpha Nichols Snearly. She married Arvel Brown November 13, 1948 and they enjoyed 51 years together before his death in 1999.
She was a member of Pleasant Hill Baptist Church in Harrisburg. She was a homemaker and worked for the church as custodian until she retired. She enjoyed sewing, reading, gardening, and watching old TV shows. She loved helping others and spending time with her family. She was a loving mother, grandmother and great grand-great-grandmother. She loved the lord and was ready to go home to meet him.
Edith was preceded in death by her parents; her husband Arvel Brown; two sons Randell Brown and Joseph Brown; a son in law Don E. Halfacre, Jr.; five brothers Dennis Snearly, Allen 'Hoot" Snearly, Vernon Snearly, Fred Snearly and Wayne Snearly; and two sisters Thelma "Sal" Williams and Doris "Datch" Ritchey.
Edith is survived by six daughters Karen Kay Brown of Jonesboro, Marsha Paulette Nebeker of Harrisburg, Kathy Denise Andrews of Pflugerville, Tex., Lisa Arlene Barnhill (Iley Barnhill, Jr.) of Harrisburg, Angelia Michele Halfacre of Trumann and Marissa Dawn Brown (Paul Wayne West) of Trumann; nineteen grandchildren Jason Wilkins, April Brown-Laws (Trevor), Nicole Nebeker, Michael Nebeker, Nerissa Andrews (Rodney Rhynes), James Andrews (Jessica Hancock), Nichelle Andrews Evans (Jamaa), Daniel Brown (Annalyce Burt), Jade Brown, Kristy Barnhill (Jimmy Morris), Johnny Barnhill (Amanda King Barnhill), Jessica Barnhill Holmes (Josh), Bradley Barnhill (Emily), Julie Barnhill, Janaya Brown Shleweet (Tarek), Andrea Halfacre (John Oldman), Donele Halfacre Cravens (Alex), Tanner West (Arvel Jackson "AJ"); and twenty-six great-grandchildren Maya Brown, Jasmonique McDonald, Kabreasha Isaac, Shantel Isaac, Pre'chas Upton, Deja Andrews, Leavalyke Elam, Rashaad Rhynes, Nakya Rhynes, Shanya Rhynes, Aatavion Andrews, Jerimiah Andrews, Janelle Andrews, Noah Christopher Brown, Elizabeth Morris, Kaleb Morris, Adam Morris, Preston King, Jamison King-Barnhill, Matthew Dylan Holmes, Jordan Holmes, Bentley Barnhill, Jada Andrews, Rebecca Barnhill, Keegan Andrew Woods and Alexxys Payne Cravens.
Funeral services were August 8 at Gregg-Weston Funeral Home Chapel with Pastor Larry Loggins officiating. Interment followed in Holly Springs Cemetery.
Pallbearers were Jason Wilkins, Johnny Barnhill, Bradley Barnhill, James Andrews, Daniel Brown and Michael Nebeker. Alternate pallbearers were Trevor Laws, Josh Holmes, Tarek Shleweet, Paul West, Alex Cravens and Jamaa Evans. Honorary Pallbearers were Tanner West, Arvel Jackson (AJ) West, Keegan Woods, Jordan Holmes, Adam Morris, Bentley Barnhill, Dylan Holmes, Aatavion Andrews and Kaleb Morris.
Online condolences may be made to the Brown family at www.mcnabbfuneralhomes.com.