Surgical Technology Program coming to ASUN-Marked Tree
Monday, August 18, 2014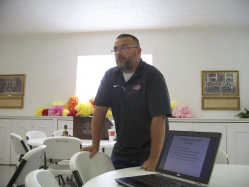 This fall, ASUN-Marked Tree will begin offering a 12 month Surgical Technology Program. The program director, and Marked Tree High School alumnus, Chris Madden recently spoke to the Marked Tree Rotary Club.
Madden, who still works at St. Bernards as a surgical technologist, said ASUN's Surgical Tech program at the Newport campus graduated 18 students this year, 16 of whom were employed before graduation. Students also receive national licensure through the program at the Newport campus, meaning they can work anywhere in the country. Madden said they are working on getting the Marked Tree program nationally accredited this year.
"We put out the best," Madden said. "If they're not the best, they don't graduate. You have to set a standard." Madden said he has students working in every heart room in Northeast Arkansas and that ASUN's surgical lab is one of the top five labs in the nation.
Madden said the program has partnerships with several local hospitals which donate equipment for students' use. For example, Baptist Hospital donated 1,972 items--such as heart valves and different types of implants for procedures--and St. Bernards donated 2,157 items to the college. "The local hospitals back us a lot because they love the students we put out," Madden said.
Madden added that the students they put out are in high demand. "These clinic sites have come to understand that if students go through this program, they are highly trained," he said.
Madden said the Marked Tree campus is taking ten students this year, and he predicted the Marked Tree campus program will surpass the Newport campus in a few years because demand is greater in this area. Madden also noted going to the Marked Tree campus for Surgical Tech would save a student $20,000 versus going to Memphis for the same program. "Marked Tree is really going to grow," he said.
ASUN-Marked Tree's Surgical Technology Program will hold an open house, to be announced at a later date.