Joyce Martin
Tuesday, August 19, 2014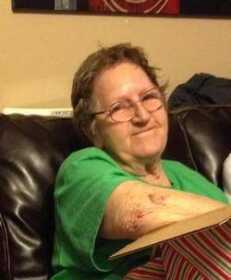 TRUMANN - Mrs. Joyce Janetta Martin, 78, of Trumann died August 13, 2014 at St. Bernards Medical Center in Jonesboro at the age of 78. Mrs. Martin was born in Trumann and lived her lifetime in Trumann. She was a homemaker and of the Baptist faith. She was preceded in death by one sister, Hazel McPherson; one brother, Yeuin A. Baker; and her parents, Charles Albert and Willie Etter Chambis Baker.
She is survived by one daughter, Donna Murphy of Cherokee Village; two grandchildren, Jennifer (Cory) Harness and Mackenzie (Jeff) Williams both of Trumann; four great-grandchildren, Jagger and Griffin Harness and Jax and Murphy Williams.
Graveside services were August 15 in Jonesboro Memorial Park Cemetery with Bro. Larry Tribble officiating.
Great-grandsons served as pallbearers.
An online register book can be signed at www.thompsonfuneralhome.net