William "Shorty" Hargrove
Tuesday, August 19, 2014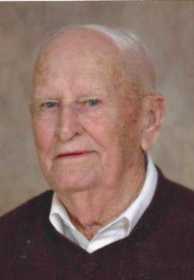 TRUMANN - Mr. William Edward "Shorty" Hargrove, of Trumann died Thursday, August 14, 2014 at the Arlington Cove Nursing Center in Trumann at the age of 99 years 9 months and 7 days. He was born in Ardmore, Ala., to the late Buster and Emma Clem Hargrove, and had lived most of his lifetime in Trumann. Mr. Hargrove was a retired farmer, served on the Trumann City Council for eight years and a member of the First General Baptist Church. He was preceded in death by his wife, Jessie Lee Hargrove in 1997; two daughters, Judy Wynne and Kathy Marie Cox; two sons, Steven Louis Hargrove and Billy Gene Hargrove.
He is survived by two daughters Barbara Burgess of Rochelle, Ill. and Brenda McCoy of Wynne; two sons Charles Hargrove of Warrenton, Mo. and Wayne Hargrove of O'Fallon, Mo.; 16 grandchildren; and several great-grandchildren.
Funeral services were August 16 in the chapel of Thompson Funeral Home in Trumann with Rev. Darrel Miller officiating. Burial followed in the Jonesboro Memorial Park Cemetery.
Pallbearers were Wally Bradsher, Leon Mott, James Baker, Gary Martin, Paul Gairhan and Daniel Miller. Honorary pallbearers were John Sadler and Cliss Hopper.
An online register book can be signed at www.thompsonfuneralhome.net