New farm and home supply store coming to Trumann
Tuesday, August 26, 2014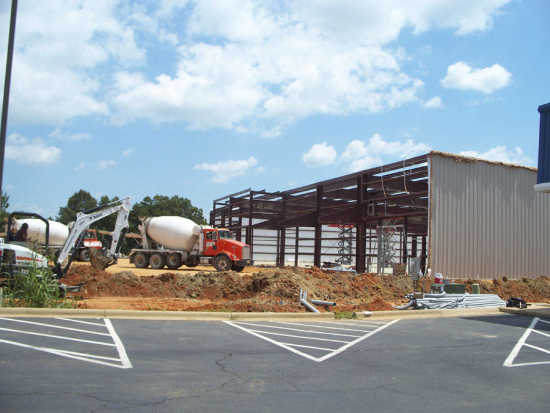 Haag Brown Commercial Real Estate and Development announced recently Orscheln Farm and Home will establish a new store in Trumann. The 32,375 square foot building will be located on a piece of property on the north side of Walmart off Industrial Park Access Road.
According to Joshua Brown, co-owner and principal of Haag Brown, construction on the store will begin in the next few weeks. Brown said additional plans for the property include putting climate controlled storage units behind Orscheln Farm and Home. In front of the store, on the side of the property which faces Highway 63, Brown said there are future plans for a medical clinic, and a restaurant could potentially go in next to the clinic.
"This is the biggest commercial project in Trumann since Walmart," Brown said.
Orscheln Farm and Home offers a wide range of products including farm and ranch supplies, lawn and garden supplies, livestock supplies and feed, pet care goods, home improvement supplies, automotive supplies, tools, fencing supplies, clothing and footwear, and sporting goods. Orscheln was founded in Sedalia, Mo., in 1960.
Brown said Trumann was the smallest town to have an Orscheln store of this size. Construction of an Orscheln of the same size was recently started in Jonesboro.
"Orscheln is an amazing company comprised of over 160 stores in 9 midwestern states," said Haag Brown co-owner and principal Greg Haag. "Our company has dealt with a number of different organizations through the years and have been thoroughly impressed by Orscheln's concept. We have enjoyed working with Jim Gillis and his staff on this project and feel like Orscheln will spur further development."
"We say this a lot," Brown said, "but we have worked on this project for a long time. The commercial real estate development business is a lot like farming. We planted seeds with Orscheln over a year ago and have been nourishing and cultivating this project since. With Orscheln's commitment to our community and region, we will begin to see fruits from our partnership. This project will add revenues from construction, new jobs, and annual tax dollars on gross sales from a company who is new to our area. We are extremely excited to finally be able to release this announcement."
Brown said construction should last for around six or seven months, and Orscheln would probably begin hiring in three months.