Community holds second revitalization meeting
Wednesday, August 27, 2014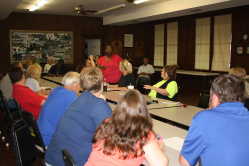 The Trumann Arkansas Revitalization Committee met for the second time on Tuesday night, August 19. Several citizens and city employees were present to get involved in the cleanup and beautification of the city.
Chairman of the committee Nedra Cook invited citizens to express their concerns for cleaning up the city. Several thought volunteers to help elderly and disabled cleanup their yard would be a good start.
Mayor Sheila Walters explained that those with junk to be discarded can place the items in a pile by the road a distance away from their garbage can on their garbage pick-up day, and city employees will pick it up and discard of the items properly.
"I urge people to come to the city council meetings to know and understand vital information about what is going on in our community," Cook said.
Representatives of the Trumann City Council, Mayor Sheila Walters,Trumann Fire Department, small businesses, churches, and the Chamber of Commerce were present. As the group continues to grow, Cook hopes to see representatives from all organizations in Trumann involved in the cleanup.
"You have to be committed," Cook said. "This is not going to happen over night. I've seen it done in other cities, and we can do it here in Trumann."
During the meeting, Cook appointed chairs to sub-committees. She encouraged all to bring their neighbors and friends to the next meeting to get more people involved.
Anyone with questions on how to get involved with the revitalization or beautification of the city may contact Nedra Cook at 870-822-1127 or email her at nedra.cook@smail.astate.edu. The next meeting will be held at the Trumann Fire Department at 6 p.m. on Tuesday, September 23.