Hancock seeks re-election
Monday, September 8, 2014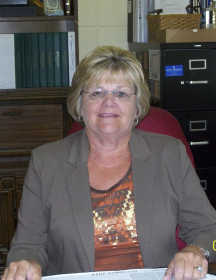 Marlene Hancock, city clerk/treasurer of Trumann announced this week that she will seek re-election to her third term in office.
"It has been a great joy and honor to serve the citizens of Trumann, as your city clerk treasurer. I ask for your continued support as we move forward," Hancock said. "We have accomplished a lot of things in the past eight years, and I think there are more projects we can complete in the future."
Hancock was elected in 2007. Prior to being elected, she worked at Gary's Pharmacy for 2 years as Pharmacy Tech and Dixie Equipment for 15 years as office manager performing duties such as accounts payable, accounts receivable, payroll, inventory, insurance, and contracts. She also co-owned Pankey's TV and Radio Shack for 19 years.
Hancock said her experience working in the clerk/treasurer office for the past 8 years makes her an excellent choice for re-election. Hancock is also a Certified Arkansas Municipal Clerk.
She is a native of Trumann, living in the city since 1971. She and her husband, Floyd, have 2 daughters and 4 grandchildren.
"I am proud to call Trumann my home and feel it is our obligation to strive to make it a better place to live," she said.
Hancock is a member of Calvary Baptist Church in Trumann, where she serves as treasurer. She is also a member of the Trumann Lions Club and Poinsetta Club.
"The clerk/treasurer office is an important part of city government. The clerk/treasurer is directly associated with all departments in the city," she said. "As your city clerk/treasurer, I will continue to work for a better, more efficient city government, and I thank you for your continued support."