Wallace talks to Trumann Lions
Monday, September 8, 2014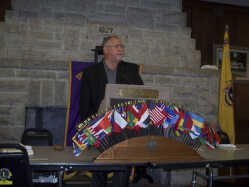 David Wallace, a retired Lieutenant Colonel with the 1st Cavalry who served in Vietnam, spoke recently to the Trumann Lions Club. Wallace, of Leachville, is running for State Representative of District 54.
Wallace spoke to the club about some of his experiences in Vietnam and the importance of overcoming fear, whether it's in war, in government positions, or in everyday life.
"I promise you, everyone in combat feels fear," Wallace said, "but we do it because we have a greater fear of letting our buddies down."
Wallace said he believed sometimes politicians' fears lead them to go along with political leaders and against their own convictions. "I believe government officials must have the courage to overcome their political fears," Wallace said.
Wallace noted he is not a career politician but said he was running because he sees things being done he feels are wrong. "I believe politicians need to be honest with voters," Wallace said. "I believe a state representative needs to listen to the folks in the district. Every day I'm out walking the streets, talking to folks, and listening to folks because I want to hear what they have to say. At 66, I'm probably not going to be a career politician, and I'm not going to be asking for your vote 20 years from now, but I believe I can make a difference right now."
Wallace said he believed Arkansas should lower the state income tax to make it easier for companies to come in and bring more jobs.
"I'm conservative and proud," Wallace said. "I'm not going to let political fears overcome my conservative beliefs." Among his beliefs, Wallace said he believed in the need to reduce taxes and cut red tape to bring more businesses in, the need to take a hard look at the private option, the right to bear arms, and the sanctity of life--Wallace noted he and his wife adopted both of their children. Wallace said he believes marriage is between a man and a woman and said he supports the death penalty.
Wallace ended by telling the story of Robert Lee Frakes, a friend of his in the Army who died the next to last day of the war in Vietnam. Wallace said Frakes' helicopter was hit while they were extracting some rangers and went down. Frakes pulled the rangers out of the aircraft, but when he went back in for the last man, he did not make it out.
"If he had the courage to do that, I promise I have the courage to represent this district," Wallace said. "I will vote the way the district believes I should vote."
Wallace said he intends to stay in touch with what's going on in the district by going to city council and quorum court meetings as well as getting out and talking to as many people as he can.
Wallace is the owner of Wallace Restorations and was inducted into the Arkansas State Hall of Heroes in 2010.