Frances Lawson
Wednesday, September 10, 2014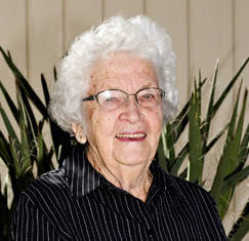 MESA, ARIZ. - Frances Cobb Lawson, formerly of Marked Tree, died August 29, 2014 in Mesa, Ariz. at the age of 91. She was born in Wolfe City, Tex. February 21, 1923 to Charlie and Willie Melton Cobb. The family moved around and finally settled in Manila. There she met a farmer named Warren Lawson, whom she wed in 1940. Frances was active in the community and the Methodist Church. She held several jobs in Marked Tree, including Holland's Five and Dime, Holland's Dry Goods, and Piggly Wiggly. She retired from the TravelAir Best Western Motel in 1988 to care for Warren. After his passing in 1992, Frances moved to Willcox, Ariz. to be near her daughter. There she became involved in the Methodist Church, UMW, and Homemakers Club.
Frances loved people, sewing, cooking, and gardening. She had an infectious smile and her eyes lit up at a good joke. Life was not easy, but Frances took it on with determination, hard work, and a spirit to make the best of it. She survived the Great Depression, the Dust Bowl, and a World War in which her husband served. She leaves behind memories of delicious meals, piles of hand-pieced quilts, table runners, hot pads, and innumerable acts of kindness.
Frances is survived by her daughter Sue (Ed) O'Connell of Mesa, Ariz.; sons Dean (Jo) Lawson of Lexa, Ark. and Ted (Bonnie) Lawson of Scott, Ark.; seven grandchildren; and 13 great-grandchildren. Preceding her in death was her husband Warren Lawson and brother Ray Cobb. Graveside Services will be at 11 a.m., Saturday, September 13 at the Marked Tree Cemetery. Contributions may be made in her name to: Wesleyan Preschool, 151 S. Curtis, Willcox, Arizona 85643 or Charles Leighton Hospice, P.O. Box 115, Willcox, Arizona 85644. You may express condolences at www.westlawnchapelmortuary.com.