Rhonda Highfill
Wednesday, September 10, 2014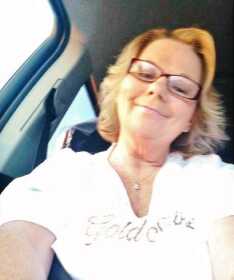 MARKED TREE - Ms. Rhonda Jo Bevill Highfill, age 53 of Marked Tree and formerly of Blytheville, passed from this life on Tuesday, August 26, 2014 at the Rebsamen Medical Center in Jacksonville, Ark. Born to Joe Medwick and Mary Evelyn Knapp Bevill in Blytheville, she was a homemaker, of the Baptist Faith and preceded in death by her parents. Although Rhonda has been disabled for the past several years, nothing seemed to dampen her disposition of being a sweet individual with plenty of smiles to go around. Her family was her life and the memory of those special shared moments of being together was a great comfort to her through her disability. Her children were the most precious possessions she had. It didn't take very long being around Rhonda and her boys to see how much she loved them. She also loved animals, reading, arts and crafts and especially swimming. She was an individual who loved making new friends by accepting them for who they were and not by what they possessed. She also loved all types of music and attended many different concerts when she was able. Her greatest passion other than family was shopping. She was a "Professional Shopper" who would spend hours buying maybe 12 items or only one. The one thing you knew for sure was you would be there for a long, long time.
Rhonda is survived by her devoted companion of 20 years, Sammy Hatley Jr. of the home; children, Josh Trimm of Jonesboro, Zachary Highfill of Marked Tree, Sammy Hatley III of Marked Tree; and brother, Steve Bevill of Southaven, Mississippi.
Funeral services were August 30 in the Cobb Funeral Home Chapel with Rev. Richard Lourcey officiating. There was also be a time to respectfully eulogize Rhonda's life by family and friends, followed by burial in Dogwood Cemetery. Condolences may be expressed to the family online at www.cobbfuneralhome.com.