Trumann adult education center breaks ground
Monday, September 15, 2014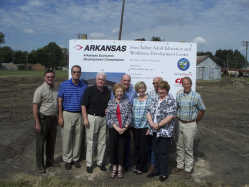 Ground was broken this week on the future site of the Sims-Talbot Adult Education/Workforce Development Center in Trumann. A large crowd gathered at the site on 212 S. Melton Ave. Monday, Sept. 8, for the groundbreaking ceremony.
According to Barbara Lewallen with the Trumann Chamber of Commerce, ASU-Newport is partnering with the center to provide adult education and workforce development at the facility. "ASU-Newport has been here for years downtown, but they have been limited to offering GED courses," Lewallen said.
Lewallen said ASUN will offer GED and basic skills courses at the new center, as well as other classes based on need, such as computer skills classes. There will also be grant-funded English as a Second Language (ESL)/Civics class for people wishing to work on their English skills or work toward citizenship.
The Sims-Talbot Adult Education/Workforce Development Center project was undertaken by the Trumann Chamber of Commerce and the Trumann Industrial Development Commission for the purpose of offering adult education and workforce training to benefit the citizens of Trumann.
"We're starting out with the basics, but we want to grow," Lewallen said. "We will be happy to have an expanded facility in which to grow."
"I think it's great for our community," Mayor Sheila Walters said. "We're going to have a very nice building in a good location. It's a functional location because a lot of people can walk to it."
According to Lewallen, Columbia Forrest is donating wood for cabinetry, Tru Cab will donate labor to build the cabinets, Town and Country will donate the hardware, Nick Stockton of Woodmen of the World is donating a flagpole, Taylor Morgan is helping with the signage, Trumann School District will give their retired Dell computers to the center at a nominal cost, and the city of Trumann will donate the services necessary for utilities and helping with drainage.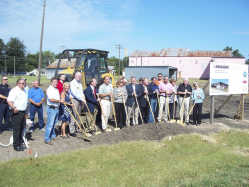 Grants and donations which have gone toward funding the facility include: the acre of land at 212 S. Melton Ave. donated by the Patteson family, $250,000 donated by the Sims family to the city through the Trumann Industrial Development Commission, $8,100 raised during Friday Night at the Show in 2012, an Arkansas Economic Development Commission federal block grant of $82,500, a Delta Regional Authority grant of $206,000, and a Rural Services grant of $140,000 provided with money allocated by Senator David Burnett. Grant applications were written by the Trumann Chamber of Commerce.
Among those present for the groundbreaking were city and county officials, members of TIDC, members of the Trumann Chamber of Commerce, members of the Sims, Talbot and Patteson families, representatives with Arkansas Rural Services and East Arkansas Planning and Development District, representatives with Rep. Rick Crawford's office and Senator John Boozman's office, Senator David Burnett, Rep. Wes Wagner, Dr. Sandra Massey--Chancellor for ASUN, the architect Tim Maddox, Shawn Stem and Earl Owens of Construction Network, Inc., and many others.
Construction of the facility is estimated to take around five months to complete.