Marked Tree Rotary inducts new members
Wednesday, September 17, 2014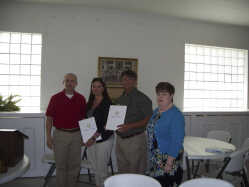 The Marked Tree Rotary Club welcomed two new members during its September meeting. Cyndi Pitts, with Ritter Communications, and Spencer Rodgers, administrator for Three Rivers Healthcare and Rehabilitation, were both inducted into the club during the Sept. 4 meeting.
After the induction, Rotarian Patty Lee spoke about Rotary Club's role in the community. "The purpose of Rotary is to improve the community," Lee said. She listed several projects Rotary heads up to do just that, both locally and abroad.
Local projects the Marked Tree Rotary Club has done over the years include giving dictionaries to all Marked Tree and EPC third graders each year for the past 11 years, landscaping at Marked Tree Elementary, lighting the Welcome to Marked Tree sign, two annual scholarships of $250 each to a Marked Tree and EPC student, giving out Thanksgiving baskets, and the annual Peggy Bankston Walk.
According to Rotarian Bonnie Thompson, this year's Peggy Bankston Walk has 77 participants signed up so far. Proceeds from the walk go to the Susan G. Komen Foundation for breast cancer research. Bankston was a long-time Rotarian who died of breast cancer in 2005. The club has held a walk/run/ride every year in her honor during the Cotton Pickin' Jubilee.
Lee said the club spends between $6-10,000 on projects to better the community. "We're not a political organization. We have no creed or handshake. We're just people who come together to serve," Lee said. "We have a purpose, a big purpose. We stand for something and really serve a purpose in the community."