Trumann jumps to early lead, holds off Junior Lions for win
Friday, September 19, 2014
Trumann scored three first half touchdowns with an offense that seemingly had the Manila defense confused at times, and went on to hand the Lions their first loss of the season, 29-16, in junior high football action Thursday night at Lion Field.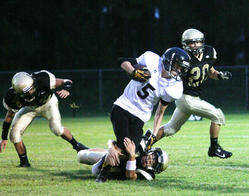 The Wildcats got on the board late in the first quarter on a one-yard touchdown plunge from fullback Preston Heavner at the 1:21 mark. Kolton Jones ran in the two point conversion, giving Trumann an 8-0 lead.
After a Lion punt, the Wildcats took over at their own 43 and marched 57 yards in only five plays, capped off by Jones 10-yard scamper with 5:34 left in the half. Cade Gartmans two point conversion run upped the Trumann lead to 16-0.
The Wildcat defense held Manila on another three and out and took over on its own 20 yard line. Eight plays later, Gartman bolted into the end zone from 32 yards out, and after Blake Liles connected on the point after attempt, Trumann led 23-0 at the half.
Levi Stroud pounced on his second fumble recovery in as many weeks, giving Manila excellent field position at its own 46 yard line early in the third quarter. A pair of Logan Hamilton runs gave the Lions a first down at the Wildcat 38, but the drive stalled, ending on downs.
Heavner broke free for a 47-yard run, down to the Manila 16, but two plays later, Lane Sims jumped on another Wildcat fumble at the Lion 10 to thwart the Trumann scoring threat.
Trumann scored early in the fourth quarter on a six yard touchdown run by Payton Hill to give the Wildcats a 29-0 lead. The point after attempt failed.
Kyle Bell took the ensuing kickoff and raced 50 yards, setting the Lions up deep in Wildcat territory at the Trumann 30 yard line. An 18-yard pickup by Hamilton gave Manila a first and goal. Kris Kerley rambled around left end for the Lion touchdown with 5:33 left in the game. Kerleys two point run sliced the Trumann lead to 29-8.
Kerley scored again on an 80-yard dash with just 35 seconds to go, and Hamilton added the two point conversion to set the final score at 29-16.
Trumann finished the night with 337 total yards, all on the ground, averaging a whopping eight yards per carry. Gartman led Trumanns rushers with seven carries for 91 yards and a score. Heavner rushed five times for 65 yards and touchdown while Koltan Jones had five carries for 62 yards. Payton Hill finished the night with seven carries for 49 yards and a touchdown.
Manila rushed for 141 yards, led by Kerleys 92-yard, two touchdown performance. Hamilton carried 12 times for 37 yards while Dalton Brumley had one carry for nine yards.
Trumann is an experienced football team. They are well coached and they did a good job tonight. We made some mistakes and we didnt wrap up defensively. We couldnt get untracked the first half. We kept fighting in the second half and we didnt give up. I was proud of them for that. We have Hoxie next week in our conference opener and weve got to be ready for them, said Manila Coach Jerry Castor.