Junior Hornets swatted by Cedar Ridge
Friday, September 19, 2014
"What a difference a week makes," was head coach Sean Hammond's first comment after the game. After a thrilling opening week game, the Hornets (1-1) had no answer for the Junior Timberwolves' ground game as Cedar Ridge ran to a 47-12 win last Thursday night in Harrisburg.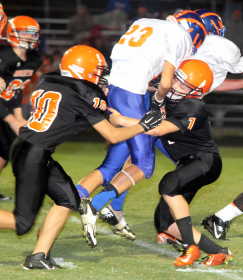 Harrisburg stopped Cedar Ridge on downs on their first possession only to see three straight incomplete passes before punting the ball back to the Junior Timberwolves. Cedar Ridge put together an 81 yard drive that resulted in a score to go up 6-0. Cedar Ridged addd the two-point conversion to go up 8-0 with 2:32 left in the opening quarter.
The Junior Timberwolves kept to the ground game as they used two plays to cover 77 yards for their second score. Another successful two-point play made the score 16-0 with 3:54 left in the half. Cedar Ridge struck again with a 50 yard touchdown run with 35 seconds left in the half. The two-point conversion was good to make it 24-0 Junior Timberwolves at the half.
Cedar Ridge intercepted Clay Wright's pass on Harrisburg's first drive of the second half and returned it for a touchdown with 7:02 left in the third quarter. The two-point try was good to make it 32-0 Junior Timberwolves. The Junior Hornets found the end zone on their next drive as Weston Stanford capped a 64 yard drive catching a 12 yard touchdown pass from Wright. The two-point play was no good leaving the score 32-6 Cedar Ridge with 5:16 left. Dylan Mathis recovered the onside kick by Walker Brown giving Harrisburg the ball on the Cedar Ridge 47-yard line. The Junior Hornets would capitalize as they drove the field with Wright and Stanford hooking up on six yard touchdown pass. The two-point conversion was again no good leaving the score 32-12 Cedar Ridge with 2:31 left.
Cedar Ridge took advantage of a turnover on downs as they scored on a long run with 4:33 left in the fourth quarter. The Junior Timberwolves kicked the extra point to make it 39-12. Cedar Ridge put the final points on the board 30 seconds later as they picked up a Junior Hornets' fumble and returned it for a score with 4:03 left in the game. The two-point conversion was good to set the final score at 47-12.
"We just couldn't throw and catch the ball tonight," Hammond added after the game. "Defensively we've got to tackle," Hammond said.
Wright threw for 182 yards with two touchdowns and one interception. Stanford caught five balls for 76 yards with two touchdown catches. Walker Brown added four catches or 81 yards.
Mathis led the defense with five tackles.