Liles' big night propels Wildcats past Lions
Friday, September 19, 2014
Justin Liles completed all nine of his passes for 220 yards and four touchdowns, in addition to running for another score, to help lead Trumann to a 33-6 victory over Manila in high school football action Friday night at Wildcat Field.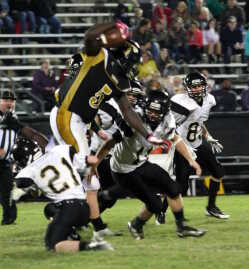 The Wildcat senior quarterback fired three touchdowns in the first half alone, going 6-6 through the air, as Trumann held a 27-0 lead at intermission.
The Wildcats struck first with an 11-play, 53 yard drive, capped off by Liles seven yard touchdown scamper at the 4:40 mark of the opening quarter. Grayson Dyes two point conversion run gave Trumann an 8-0 lead.
Liles began his aerial bombardment on the Cats next possession, hooking up with Dye on a 53 yard touchdown pass on the last play of the first quarter to push the Trumann advantage to 14-0. The two point conversion attempt failed.
Liles struck again through the air, this time to wide receiver Tre Simmons on a 30-yard scoring pass with 3:35 left in the half. Simmons added the point after attempt and Trumann led 21-0.
Liles ended his first half passing barrage, teaming with Simmons once again, this time on a 33-yard pass play off a crossing route with 1:39 to go before halftime. The point after was blocked, leaving Trumann ahead 27-0 at intermission.
Neither team could put points on the board in the third quarter, but the Wildcats found pay dirt early in the fourth period when Liles connected with Alex Santos on a 21-yard scoring pass to give Trumann a 33-0 lead. The two point conversion attempt failed.
Manila finally got on the score board when Jake Helton dashed 54 yards on the games last play, galloping down the right sidelines into the end zone as the horn sounded.
Its been a long time between wins here at Trumann, said Wildcat Coach Scott Waymire. This is a good win. We have some kids who have been through the tough times. We hit some big pass plays tonight. Justin Liles had a real good game throwing the ball and our receivers made some nice grabs. Manila played real hard. You cant take anything away from them. We have to get better. Weve got some tough games ahead starting with Paragould next week.
Trumann finished with 363 total yards, 220 through the air to go along with 143 on the ground. Dye led all Wildcat rushers with eight carries for 53 yards. Dye also was the leading receiver with three receptions for 69 yards and a touchdown. Simmons finished with two catches for 66 yards and two scores while Kevontae Andrews snared two passes for 37 yards. Willie Moore recovered a fumble for the Wildcats while Dye picked off a pair of passes as the Trumann defense forced three Lion turnovers.
Navarro led the Manila rushing attack with seven carries for 80 yards. Helton had seven carries for 43 yards and a touchdown.
Manila finished with 180 yards total offense, including 160 on the ground.
Trumann returns to action at 7 p.m. Friday night when they welcome the visiting Paragould Rams.