Second half spells doom for Wildcats
Thursday, September 25, 2014
Trumann (1-2) held their own in the first half against Paragould trailing only 14-7 at the half. The second half was a different story as the visitors found the end zone two times while shutting out Trumann on their way to a 28-7 non-conference win at Wildcat Field.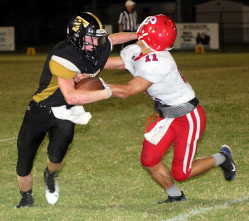 After forcing Paragould to punt on their first possession, Trumann took advantage of the Rams short punt by driving down the field where Grayson Dye scored on a one yard run to make it 6-0 Wildcats with 6:13 left in the first quarter. The Rams answered as they took the kick-off and drove the field with a strong running game and scored with 3:16 left to make it 7-6. The extra-point was good making it 7-7.
The Wildcats punted to start the second quarter with Paragould starting their drive at their own 17-yard line. Both defenses played tough for most of second quarter with Paragould adding a score with 57 seconds left. The point after was good to make it 14-7 Rams. Trumann drove down to the Rams' 27-yard line before two incomplete passes ended sent the teams half with Paragould leading 14-7.
Trumann got the ball to start the second half and turned it over on a fumble with 6:57 left. The Rams took advantage of the turnover as their quarterback kept the ball around the right end before racing to the end zone for the score. The point-after was good making the score 21-7 Paragould with 6:46 left in the third quarter. The third quarter ended with the score still 21-7 Rams.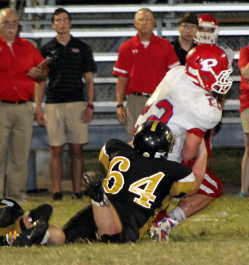 Paragould added another score with 6:23 left in the game. The point-after made the score 28-7. The teams took turn trading possessions for the rest of the final quarter giving the Rams a 28-7 win over the Wildcats.
"They've got a good team with five senior lineman who have been in the program for six years and that experience showed in the second half," Trumann head coach Scott Waymire said after the game. "I thought our kids played good and we had some opportunities to put ourselves in a position to take the lead and make them have to do something. We are night and day compared to last year, we have to get a little better up front," Waymire added.
Liles passed for 105 yards on the night and had a touchdown rushing. Grayson Dye was the leading rusher with 71 yards. Cain White finished with seven tackles as Jeremiah Allred totaled six tackles.