Porto touring Arkansas with Trojan horse to alert voters
Tuesday, September 30, 2014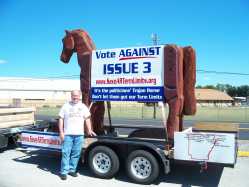 Bob Porto, co-chair of Arkansas Term Limits, has been traveling across the state with a giant wooden horse to educate voters about Issue 3, a proposed amendment to the state constitution.
"Issue 3 is being touted as an ethics amendment. We would love to have ethics in government, but this is an unethical amendment. Voters could be deceived going to the ballot," Porto said when he was in Trumann Monday.
According to Porto, the 22 page bill includes four separate issues under one vote. Among these issues lawmakers would not be able to become lobbyists for two years, lawmakers would not be able to accept gifts from corporations, and a Citizens Committee would be set up to handle pay raises. "Currently, if we don't like a pay raise, we can vote," Porto said. But under the bill in Issue 3, lawmakers would no longer be accountable to voters for pay raise. The first pay raise would be unlimited, and there would be a 15 percent cap per year on pay raises.
The fourth issue in the bill is the one of major concern to Porto. On page 16 section 3 of the bill, term limits for the Senate and House of Representatives are lengthened to 16 years each. Current term limits are eight years for the House and six years for the Senate.
"In 1992 we won with 60 percent of voters to get term limits for the House and Senate," Porto said. "They tried to deceive voters in 2004, and we won with 70 percent of voters. That's Democrats, Republicans, Libertarians, Independents. Surely the will of the people was expressed."
Porto said the current bill is being touted as an ethics bill with a title claiming to establish term limits, but Porto says that is a deception since the bill extends term limits which have already been established and would create career politicians.
"Since we set term limits there have been more minorities, teachers, and business owners in government than ever before," Porto said. "Lawmakers know if they can trick voters, the go back to the way things were."
Porto said he is traveling the state with the Trojan horse to highlight the deception involved in Issue 3 and to educate voters. "I'm here so voters can go to the polls educated. Arkansas voters deserve better than being deceived," Porto said.