EPC students help with Special Olympics
Wednesday, October 1, 2014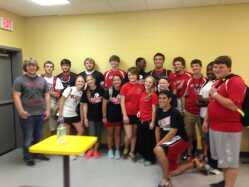 The Men and Ladies of East Poinsett County High School are continually looking to get involved with a good cause. On Friday, Sept. 19, the organizations volunteered at the Special Olympics in Jonesboro at Allen Park, assisting with the Bocce Ball event.
"This year, we took 18 young men and women, and they had a really good time," said Christi McLaughlin, sponsor of the Ladies of EPC.
She added that all of the students said it was a very enjoyable experience getting to know the participants in the event and look forward to next year's Special Olympics.
"I loved seeing the smiles on the participants' faces as they were playing," said Rachel Worsham, a Lady of EPC who attended the event on Friday. "I made really good friends with a lady named Stacey. I look forward to coming back next year and hanging out with her again."
Principal of EPC John Kelly said the students were invited back to be the permanent school support team for future Special Olympic events due to the quality of involvement on their first-time visit.
The Men of EPC and Ladies of EPC are student-volunteer organizations. One of their on-going projects is to be mentors to the younger students of EPC. McLaughlin said the students try to help with anything in the community. They also work to clean-up the community before the Terrapin Derby every year.
Students apply to become a part of the group with GPA and teacher recommendation requirements.
"As the sponsor for this group, one thing I really want these young men to know is that they have power," said Jennifer Fithen, sponsor of the Men of EPC. "They are leaders, mentors, and role models, and one thing our society needs is more strong men, who are willing to stand up and serve a purpose larger than themselves."
Since the creation of the group, there has been a steady increase in Jr. High male academic performance and attendance, as well as less disciplinary issues in both the Jr. High and Sr. High schools, Fithen said.