Junior Warriors shut out Rector
Friday, October 3, 2014
EPC (3-1) scored all their points in the first half and it was more than enough as the Junior Warriors shutout Rector 30-0 last Thursday night in Lepanto.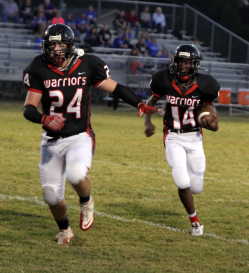 The Junior Warriors got on the board first as Eric Driver scored on a five yard run with 6:34 left. Alex Benton added the two-point conversion run to make it 8-0 EPC. Rector turned the ball over on downs on their first possession with 4:13 to play in the first. EPC took advantage as they drove down and scored on a Jonathan Gilmore 10 yard run with three minutes left in the first quarter.. The two-point conversion run was no good leaving the score 14-0 EPC. Rector punted on their next possession and the Junior Warriors added another score as Driver found the end zone for the second time to make it 20-0. Andrew Cavitt ran in the two-point conversion to make the score 22-0 Junior Warriors.
The teams traded possessions before EPC found the end zone again on a 28 yard run from Dee Buchanan with 2:44 left before half. Hayden Malone found Peyton Phillips on the two-point pass conversion to make it 30-0.
Rector started the third quarter with a nice drive into EPC territory but was forced to punt the ball away. EPC fumbled the ball on their own four-yard line as Rector recovered to have the ball in great field position. The Junior Cougars could not capitalize as the Junior Warriors defense held on downs.
Neither team could put any points on the board as the the game ended 30-0 in favor of EPC.
Driver led the Junior Warriors in rushing with 50 yards and two touchdowns. Gilmore finished with 40 yards rushing and a touchdown. Heath Cavitt recorded seven tackles on defense for EPC.