Hendrix talks landfill and recycling at Trumann Lions
Monday, October 6, 2014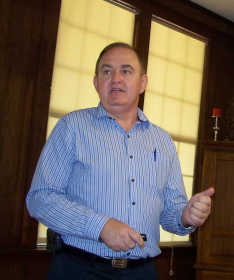 Robert Hendrix has been executive director for the Craighead County Solid Waste Disposal Authority for three years. Last week, he spoke to the Trumann Lions Club about recycling and the Craighead County Landfill.
According to Hendrix, landfills today are much more complicated compared to the city dumps of years past. Hendrix said landfills are comprised of several layers which allow for drainage and prevent trash from coming into contact with the outside soil. The Craighead County landfill has four bulldozers so two can be running all the time. Two-hundred and ninety-seven acres are currently designated for landfill use, which will last for the next 100 years.
Every weekday afternoon, a plastic cover, held down with sand, is placed over the trash. Dirt is used instead of sand on Saturdays. Hendrix said this method of covering the landfill for the end of the day saves space and is more cost effective than covering each day's trash layer with dirt on a daily basis.
Craighead County's landfill is also the first in the state to have a building for people to dump their trash in. The Customer Services Center is a 20,000 square foot building with 5 bays people can drive into so trash can be disposed of under protection during all types of weather.
On the recycling side, Hendrix said Craighead County's curb-side collection program is one of the stars in the state. "We are partnered with Abilities Unlimited," Hendrix said. "They created 14 new jobs for developmentally disabled adults to sort recycling. I'm excited about that."
Hendrix said there is also an Environmental Education Program which does outreach to schools and the community to educate people about recycling. The program has trained and certified 108 environmental educators, equipped 21 schools with recycling bins, and certified five schools as Environmental Schools.
The landfill recycles tires, metal, electronics, all grades of plastic, all colors of glass, cans, and car batteries. In tires alone, the landfill hauls 10-12 tons a day, five days a week, for recycling through Liberty Tire.
As for the future of recycling in the county, Hendrix said he would like to expand the blue bag program, expand recycling of paper and cardboard, replace blue bags with containers, have at least two community drop-off locations, and do county-wide curb side pick-up.