Work progressing on memorial park in Trumann
Monday, October 6, 2014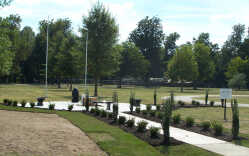 Work on Trumann's Fallen Heroes Memorial Park is nearing completion. David Woods, who is chairman for the project and a former law enforcement officer, estimated the memorial should be complete before the end of the year.
Ground was broken on the memorial park in March following the passing Trumann Fire Chief Rick Winkles. Since then, the concrete has been poured, three benches have been installed, two flagpoles--donated by Woodmen of the World--have been installed, and landscaping has been completed courtesy of Lowery's. "Everything is done except the four monuments," Woods said. "We're going to try to complete it this year."
The Fallen Heroes Memorial Park will honor Trumann police, EMS, and firemen who died in the line of duty. The park will have four memorial monuments to honor Police Chief Larry Blagg, who was killed after being hit by a falling tree limb during the 2009 ice storm; Officer Jonathan Schmidt, who was shot and killed during a traffic stop in 2011; Fire Chief Rick Winkles, who died after suffering a heart attack while working a grass fire in January of this year; and Arkansas State Trooper Bill Rose, who died on his way to a car crash south of Trumann in 1982.
This week, the Fallen Heroes Memorial Board are planning to bury a time capsule at the site of the memorial park. Woods said the capsule includes photos of current Trumann police officers, firefighters, and EMS personnel, a pin with the city's logo, money from a penny up to a dollar bill all minted in 2014, a copy of the most recent edition of the Poinsett County Democrat Tribune, a current Trumann football schedule, and other items from the school.
The Fallen Heroes Memorial Board also had a booth set up at the Wild Duck Festival last weekend to take donations to help finish the project.