Former President Bill Clinton speaks at Arkansas State University
Friday, October 10, 2014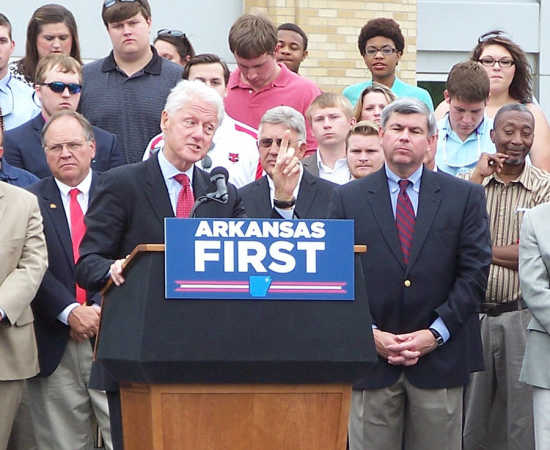 Non-partisan cooperation and the importance of young people voting were two themes former president Bill Clinton kept coming back to as he spoke during a rally at Arkansas State University Monday. The 42nd president shared the stage with Governor Mike Beebe and several Democratic candidates--including Senator Mark Pryor, Mike Ross, Jackie McPherson, and John Burkhalter--when he addressed the crowd at Heritage Plaza Lawn.
Clinton endorsed Mike Ross for governor, saying he would continue Governor Beebe's legacy, and Senator Mark Pryor, saying he is consistently willing to work together with others across party lines.
"The reason Mike Beebe is the most popular governor in the country is he's done things the right way," Clinton said. "People are sick of this fighting and partisanship. Here's what I know. Everywhere in America where people are working together, good things are happening. Everywhere people are fighting, bad things are happening."
"I see what's going on in Washington, and it breaks my heart. But this country's coming back," Clinton said. He noted that after a financial collapse, it usually takes a country ten years to get back on its feet but said the United States came back from the 2008 financial crisis in six years, four years early.
Clinton also encouraged young people to vote in the November election to prove pollsters wrong who say young people do not turn out in great numbers to non-presidential elections. "They don't think you'll show up," Clinton said. "I'm telling you, you need to show up."
Clinton said he wanted to see people voting for candidates who would work together across party lines to make the country a better place that gives everyone an equal start in life because he did not want to see his granddaughter grow up in a world where she was doing fine because of her family while the rest of the country was not.
"We're all in this together. We better start acting like it," Clinton said