Mayoral candidates answer questions at Trumann forum
Saturday, October 11, 2014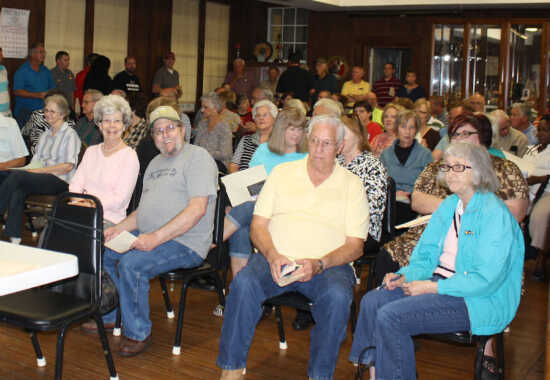 In a packed Community House on Tuesday, Oct. 7, four candidates running for mayor of Trumann met with members of the community for a question and answer session moderated by Corey Clairday, reporter for the Democrat Tribune. Ken Stockton, Sheila Walters, Barbara Lewallen, and Gary Hill discussed city services, economic development, and city beautification among other topics. Candidates absent from the debate were John Paul Goodman and Debbie Cook.
When asked about how they will improve or expand on city services, Lewallen said she believed the city services were pretty good in Trumann. She explained that the Trumann Fire Department is the only full-time fire department in the county, the police department has several officers, and the water and street departments work hard to maintain the city's needs. "There are always things to be done, and yes, we could do some improvements such as more cleaning up, but I think that we are working everyday to do that. I don't think the services in our city are bad at all. I think we are working very hard to do the best that we can do," she said.
Hill said he would improve the fire department services, trash services, and water services. According to Hill, he approached Mayor Walters a few years ago with a trash proposal to save the city money. "If elected as mayor, the city will make a $100,000 a year in trash," Hill said.
Walters responded to Hill's comment in her answer to the question of city services, saying the city chose to pick up their own trash and, by doing so, expanded city services. "We are not in a hole by any means in the sanitation department," Walters said. "Now, we not only pick up your garbage weekly, but on the same day we pick up your limbs and big items of junk on the site. If you're going to make money, keep it in the city. Let that money turn-over within the city." She added they are improving on the infrastructure of the city all the time, ever since she's been mayor.
"Until a person gets in office, the budget is set for the next year I understand, so we will have to work with what we got," Stockton said in response to the question. "Our services for this nice town have been satisfactory. I think they can be improved, though, with a lot of management. I will say this, this is not my city; this is your city. You pay taxes, and we are willing to work for you."
When asked what their economic development plan for Trumann is, candidates explained their plans for growth and clean-up. Hill said he plans to work very hard to create jobs and "grow in a nice way." He believes Trumann is in a unique position between Jonesboro and Memphis, and thinks he can help the town grow by 2,000 people within the next 4 years if elected mayor.
Stockton said the mayor does not completely control economic development, and that the mayor should be a supporting role of the chamber of commerce. "We have a lot of people with the capacity to do things," he said. "A lot of people working together can get a lot of work done." With positive attitudes and community involvement, he said Trumann will be in the right position to grow.
For economic development, Mayor Walters said she plans to continue to make the town attractive with clean-up efforts to attract new businesses. "Our city is economically sound," Walters said. "We are willing to invest money in things that will cause economic development." In four years, she said she envisions Trumann growing by population and economically.
Lewallen said the subject of economic development is her favorite subject, as she has been attending meetings pertaining to the subject since 2008. "The major issue in economic development is the quality of the workforce," she said. "Quality workforce means educated, skilled people, but it also means workers who have work ethic." With encouragement towards new and older developments and further beautification of the city, Lewallen projects that Trumann is in a good place to grow within the next four years.
The election is set for Nov. 4 between the hours of 7:30 a.m. and 7:30 p.m. at the Old Community House. Early voting begins Oct. 20 at the County Clerk's Office.