Marked Tree Rotary gives dictionaries to third graders
Monday, October 13, 2014
Last week marked the 12th year in a row the Marked Tree Rotary Club has handed out dictionaries to area third graders. Rotarians spent Thursday morning, Oct. 2, making the rounds at schools and passed out dictionaries to third graders in Marked Tree and at EPC in Lepanto and Tyronza. Dictionaries were presented to 96 students this year.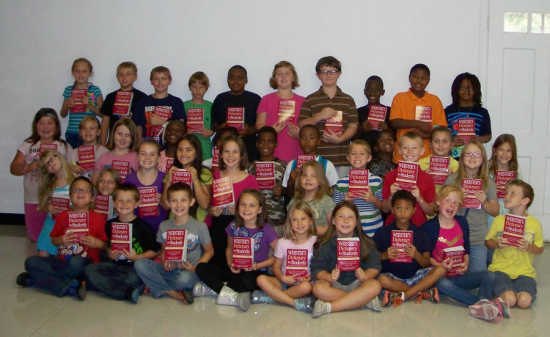 The Dictionary Project was started in 1995 by Mary French, a Rotarian and retired school teacher in Charleston, S.C., when she brought dictionaries to all the third graders at Charleston Public School. In 2002, the Dictionary Project was founded with the goal of putting a dictionary in the hands of every third grader in America. The first year all states participated was 2007. In the 2012-13 school year, 2,905,180 dictionaries were handed out, covering 59 percent of schools in the country.
In the 12 years the Marked Tree Rotary Club has participated in the Dictionary Project, the club has distributed 1,212 dictionaries. As a whole, over 20 million dictionaries have been distributed to third graders across the country since 1995, and over 4,000 civic clubs, groups, or individuals are involved in the project.
"The Dictionary Project is probably one of the best projects we've ever had," said Rotarian Bill Stanley. Stanley said the club still hears from students who have grown up with their dictionary. He met a girl from Tyronza 18 months ago who told him she was in college and still using her Rotary dictionary.
The Marked Tree Rotary Club also received an update on the balloon release from the Peggy Bankston Walk held the morning of the Cotton Pickin' Jubilee. Rotarian Patty Lee informed the club from the Harmon family in Depauw, Ind., who found three balloons from the walk in their yard Monday morning.
Lee said to land in their yard, the balloons had to travel around 375 miles between Saturday and Monday. Lee said in the email she received from Kate Harmon, Harmon informed her that three family members had been diagnosed with cancer in the past few years, including her sister who is currently undergoing radiation treatment for breast cancer, so it was an incredible coincidence to receive three balloons from a walk raising money for breast cancer research. Lee said the Rotary Club would release balloons on behalf of Harmon's sister as well during next year's walk.