Junior Wildcats take control of conference race at 3-0
Friday, October 10, 2014
Trumann (5-0, 3-0 4A-3) got another big night from Cade Gartman and their defense came up big with a huge stop on a two-point conversion play to down Gosnell 14-12 on Homecoming night in Trumann. Gartman finished with 179 yards and two touchdowns on the night.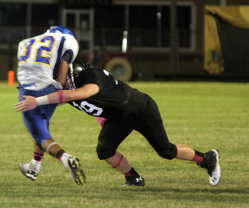 Gosnell got the ball first and drove into Trumann territory twice, one called back on a penalty, before turning he ball over on downs at the Junior Wildcats' 45-yard line with 3:30 to go in the opening quarter. Trumann moved the ball down to the Junior Pirates' 25-yard line before they turned the ball over on downs with 1:32 left. The quarter ended with the score 0-0.
Trumann forced Gosnell to punt to start the second quarter with the Junior Wildcats taking over on their own 32-yard line. Gartman put Trumann on the board with a 55-yard touchdown with 6:28 left I the second quarter. Payton Hill added the two-point conversion run making it 8-0 Trumann. Trumann tried a little squib kick but Gosnell recovered at their own 42-yard line. Gosnell took advantage of the short kickoff as they drove down and scored with 1:32 left making it 8-6 Junior Wildcats. The two-point conversion try was no good. Gartman struck again with 27 seconds left in the half as he sprinted 65 yards for his second touchdown of the night to make it 14-6 Junior Wildcats. The two-point try was no good for Trumann.
The third quarter was an exchange of possessions by each team as neither could put any points on the board as Trumann held onto a 14-6 lead heading to the final quarter.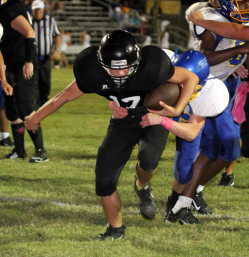 Trumann drove down to the Gosnell 17-yard line before turning the ball over on downs with 4:52 left in the game. Trumann had Gosnell backed up to their own 12-yard line facing fourth and 15 only to see the Gosnell quarterback break free and sprint 88 yards for the score to make it 14-12. Trumann's defense came up big with a stop on the two-point try to leave the score at 14-12 with 3:20 left in the game. Trumann recovered the onside kick attempt by Gosnell before running out the clock to preserve the win.
"A big win for us tonight, they were the only undefeated team left in the conference and kind of lets us control our own destiny now," Trumann head coach Cody Wallis said after the game. "We kind of let them hang around a little bit tonight but we're getting better and better each week and are looking to finish the season strong," Wallis added.
Gartman had a big night for Trumann rushing for 178 yard and two touchdowns. John Dunham had seven tackles to lead the defense with Gartman adding five tackle on the night.