Lady Hornets take match from Cave City
Thursday, October 16, 2014
Harrisburg celebrated Senior Night with a victory over Cave City this past Tuesday night. The Lady Hornets won the first two sets 25-18 and 25-17. Cave City took set three 25-19 before Harrisburg won set four 25-16 to win the match.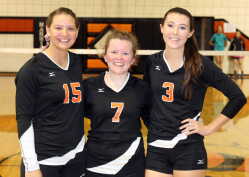 For the Lady Hornets, Abby Wallace finished with 14 kills, two assists, nine digs, three aces and three blocks. Camille Clem added nine kills, 17 digs and one block as Caroline Parker had 24 assists and 10 digs. Emaleigh Harper had 12 digs as Peyton Craft finished with five kills and eight blocks.
Seniors Camille Clem, Peyton Craft and Emaleigh Harper were honored as they played their last home game for the Lady Hornets.