Bradley talks scholarship fund at Lions Club
Monday, October 20, 2014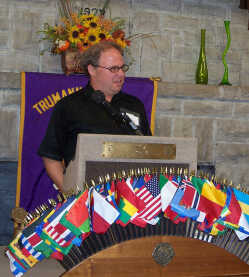 Joshua Bradley, a Trumann native and candidate for Poinsett County Clerk, spoke to the Trumann Lions Club recently about the Poinsett County Single Parent Scholarship Fund (PCSPSF).
Bradley became treasurer for the PCSPSF three years ago after being asked to join the board by County Clerk Fonda Condra. Single parent scholarships are provided to low-income single parents pursuing post-secondary education in preparation for skilled employment. Bradley said the scholarships can be used for much needed items and services, such as childcare, which are not covered by other scholarships. "We do everything we can to help single parents in Poinsett County," Bradley said.
The funding for the scholarship comes entirely from donations, which are matched 1.6 to 1 percent. Bradley said over $5,000 in scholarships were given away for the fall semester this year.
Bradley said the first time he was on hand to give out scholarships, three women received them. "They were so appreciative," he said. "I've seen one go on to graduate from Marked Tree and get a nursing degree at ASU. A sense of pride rises when I think: I helped with that."
Applicants for Single Parent Scholarships must reside in Poinsett County, be a high school graduate or equivalent, be single and head of a household with a dependent child under 18, be pursuing an undergraduate course of study, be of low income, and be a Pell Grant recipient. Applicants can apply online at www.aspsf.org.