Billye J. Marr
Thursday, October 23, 2014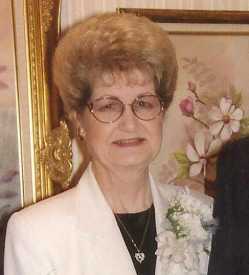 CORDOVA, TENN. - Billye J. Marr, 87, of Cordova, Tenn. unexpectedly went to be with the Lord Saturday, Sept. 20, 2014.
She was born in Marked Tree November 11, 1926 to Wylie and Opal (Estes) Dye. Billye graduated from Marked Tree High School in 1945. The Dye family lived in Marked Tree from 1917 until Opal's death in 1970 and were members of First Baptist Church.
Following high school Billye graduated from Draughon's Business College in Memphis. She married Kenneth F. Marr of Marked Tree in 1947 and worked at William Jewell College in Liberty, Mo. while Kenneth finished his degree. The couple moved to Memphis in 1949 when Kenneth accepted a job with Union Planters Bank. They returned to Marked Tree in 1950, where Billye worked for Western Auto and Kenneth for the Marked Tree Tribune.
Kenneth accepted a job with Shell Oil in Deer Park, Tex., and the couple moved to Houston in 1951. Billye worked as a medical assistant for Dr. Ray Goens until 1989. They were active members of Park Place Baptist Church and enjoyed traveling after retirement. Billye was a talented oil painter who enjoyed sharing her art with family and friends.
Billye moved to Cordova in 2006. Although she endured much physical pain the last few years, she did so with dignity and strength, her mind sharp, sense of humor intact, and hair impeccably coiffed (hat tip to sweet friend, Sandi Peeler).
Billye was preceded in death by her husband and parents; brothers, Wilbur and Harry Dye; and sisters Auvergne Byers and Agnes McCartney.
She is survived by one daughter, Dale Marr of Cordova; sister, Elodie Bingham of Marked Tree; brother-in-law, Gerald Marr and wife Deborah of Jonesborough, Tenn.; sister-in-law, Felice Dye of Vicksburg, Miss.; cousin James Cortez and wife Becky of Houston; numerous nieces and nephews; and dear, lifelong friends, Elizabeth and Joe Hamm of Ramer, Tenn.
Plans are for Billye and Kenneth to eventually be interred in the Marked Tree Cemetery.