Edith Craig
Thursday, October 23, 2014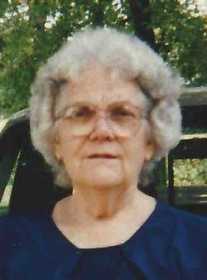 TRUMANN - Mrs. Edith Madeline Craig, of Trumann, died October 11, 2014 at St. Bernard's Medical Center in Jonesboro at the age of 90. She was born in Mountain View, Ark. to the late James Alonzo and Dessie Alberta Richardson McIntire. Mrs. Craig lived most of her lifetime in Trumann, was a housewife and a member of the Melton Avenue Church of Christ. She was preceded in death by her husband, Paul Craig in 2003; one daughter, Charolette Benson; one sister; and two brothers. She is survived by three daughters, Patricia (Roy) Gottfried and Carol (Johnny) Pillow both of Trumann and Karen (Keith) Livesay of Jonesboro; two sons, Larry (Hazel) Craig of Trumann and Gary (Sherry) Craig of Jonesboro; two sisters, Ova Lea Leighton of Vilonia, and Bobbie Abney of Belleville, Mich.; three brothers, Jim McIntire of Conway, A.C. McIntire of Strawberry and Bill McIntire of Vilonia; eight grandchildren; and 14 great-grandchildren.
Funeral services were October 14 in the chapel of Thompson Funeral Home with Ronnie Benson officiating. Burial was private in Holly Springs Cemetery near Harrisburg.
Active pallbearers were David Benson, Corey Gottfried, Cris Battles, Jason Craig, Justin Craig and Phillip Criswell.
An online register book can be signed at www.thompsonfuneralhome.net.