Trumann and Harrisburg advance in NEA YFL playoffs
Thursday, October 23, 2014
Trumann (#1 NE) and Harrisburg (#3 SW) both advanced to the semi-finals with wins this past weekend in the opening round of NEA YFL post-season playoffs in Hoxie. Trumann downed Hoxie (#4 SW) 20-6 and Harrisburg downed Earle 16-12 in the Cotton Bowl division. EPC (# 3 SE) could not find an answer for Newport offensively or defensively as their seasn ended with a 36-0 loss in the Super Bowl division.
Trumann got two rushing touchdowns from Hayden Lindsey and one from Tyler Fraley. Hayden also added a two-point conversion run.
Trumann will travel to Augusta Saturday to take on the McCrory (#2 SW) at 10 a.m.
Harrisburg scored two first half touchdowns with successful two-point conversion plays to take a 16-12 halftime lead. Samuel Moore scored on a quarterback bootleg with Luke Smith adding the two-point conversion. Luke Smith scored Harrisburg's second touchdown as Jace Heeb ran in the two-point conversion. Neither team scored in the second half.
Harrisburg will take on Newport (#1 SW) in Augusta Satruday at 11:15 a.m.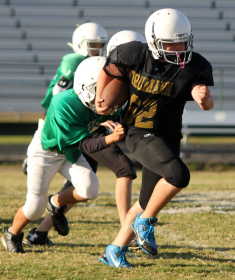 EPC ended their season with a 4-3 record.