Dye's big outing paces 'Cats - County football roundup
Thursday, October 23, 2014
Trumann's (2-5, 1-3 4A-3) defense stopped Harrisburg's (1-6, 0-4) final drive of the game to preserve a 44-39 4A-3 conference win this past Friday in Trumann. Grayson Dye had a huge night for the Wildcats as he rushed for 301 yards and four touchdowns. Dalton Carter added 71 yards on the ground with a touchdown as Garrett Woods added 51 yards rushing. Willie Moore had a touchdown run as the Wildcats ran for 446 yards on the night.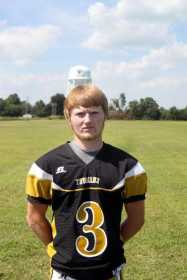 Marked Tree (4-3, 2-2 2A-3) spotted Walnut Ridge 14 points before reeling off 35 straight points to win 35-14 in 2A-3 conference action this past Friday in Marked Tree. Octavious Dean passed for 137 yards and two touchdowns while adding 75 yards rushing on the night. Cameron Mitchell added 75 yards rushing with two touchdowns. Tevin McGee had a touchdown rushing for the Indians. Hunter Pitts finished with 76 yards receiving and a touchdown as D'Angelo Griffin Daniel hauled in a touchdown catch.
Trumann's Junior Wildcats ( 7-0) had another big night of running the football as they rushed for over 300 yards as team in beating Brookland 32-16 in junior high football actions. Cade Gartman led the charge with 154 yards and touchdown followed by Koltan Jones with 137 yards and two touchdowns. Will Ryan White and Preston Heavener also scored rushing touchdowns for Trumann.
Harrisburg came up short against Westside losing 24-20 in junior high football action.