Junior Warriors blank county rivals
Thursday, October 23, 2014
The Junior Warriors defense was stingy as their offense was plentiful as EPC downed county rival Marked Tree 28-0 last Thursday in Lepanto.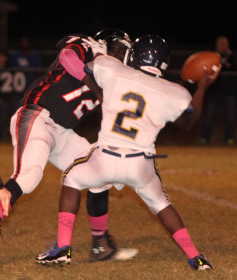 Marked Tree received the opening kick-off before being forced to punt on their first possession. The Junior Warriors ground game cranked out the yardage with Alex Benton capping off the drive with a nine yard touchdown run. Benton added the two-point conversion run to make it 8-0 with 2:11 left in the opening quarter. Marked Tree's second possession ended like the first with the Junior Indians punting the ball back to EPC with 13 seconds left.
The Junior Warriors ground game kept eating up the yards it the second quarter as they drive down and score on a two yard run from Adam McClain. McClain added the two-point conversion run to make it 16-0 EPC with 4:30 left. Marked Tree was forced to punt on their next possession and the teams traded fumbles before EPC scored again. Dee Buchanan hit Peyton Phillips with a 36 yard pass off a double hand-off trick play to put the ball at the Marked Tree two-yard line. Eric Driver went in from a yard out for the Junior Warriors touchdown. Andrew Cavitt was stopped on the two-point try leaving the score 22-0 EPC with 11 seconds left before halftime. Heath Cavitt intercepted Paul Coleman's pass returning it to the Marked Tree 20-yard line as the half ended.
Matt Brown recovered the onside kick for EPC to start the second half. A McClain to Trey Howard pass put the ball on the Junior Indians six-yard line before Heath Cavitt scored on the next play to put EPC up 28-0 with 5:48 left. The two-point conversion play was no good. Marked Tree turned the ball over on downs before EPC fumbled the ball back to the Junior Indians as the quarter ended with EPC up 28-0.
The teams traded possessions the entire third quarter as both defenses played tough in the final quarter as EPC won 28-0.
"I think we played well, rebounded from the loss last week, The boys played hard and executed well," EPC junior high head coach Brandon Powell said after the game.
"To many turnover and way to many missed tackles," was Marked Tree junior high head coach Derik Drewett's first comments after the game. "We had a chance to stay in the game early, had them (EPC) fourth and long twice and they converted both times. When you bury yourself in a hole, it's tough to dig out," Drewett added.