Tyronza holds "Meet the Candidates" night
Sunday, October 26, 2014
In a public forum on Monday night, Oct. 20, candidates for mayor and city council positions answered questions pertaining to the community of Tyronza. Mayor Marion Bearden was the moderator for the event. Candidates present that are running for mayor were Dusty Gill and Charles Glover. Alderman candidates present were Shirley Hindman, Ward 3 Position 2; Wayne Bailey, Ward 1 Position 1; Jessica Ross, Ward 1 Position 2; Michael Hood, Ward 1 Position 1. Glover, Bailey, and Regina Hindman are currently serving on the Tyronza City Council. Regina Hindman was the only candidate absent.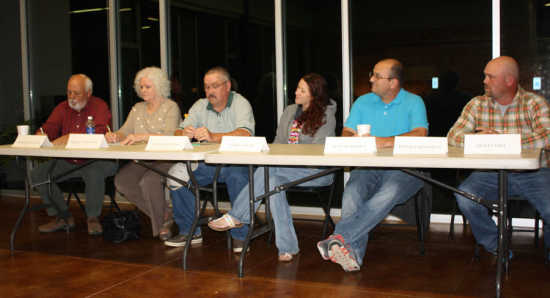 When asked what they see for Tyronza's future, all candidates agreed that they would like to see growth in the town. Hindman said she would like to work on getting more houses, because Tyronza is in a prime position between Memphis and Jonesboro. Bailey said he also sees the potential for more housing and growth in the future. Hood agreed, stating that Tyronza was a great town to live in with great city services.
"We are headed in the right direction for growth, and we need to continue in that direction by working to get grants," Glover said.
Ross said she would like to see more parks and recreational areas for the younger generation living in Tyronza. Gill said Tyronza was a promising town. In the future, he sees Tyronza growing with the right resources. Throughout the night, all of the candidates praised the city services of Tyronza and the community, in general.
Voting is set to take place at the Tyronza Fire Station from 7:30 a.m. to 7:30 p.m. on Tuesday, Nov. 4.