Marked Tree Chamber looks to future projects
Monday, October 27, 2014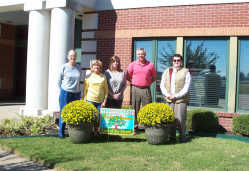 With the mural on the underpass nearly complete, the Marked Tree Chamber of Commerce spent this week's meeting looking the next projects to tackle.
According to chamber president Sandy Teague, the chamber is working on getting the sealant needed to protect the mural. Once that is acquired, the paint will be touched up and sealed.
One project the chamber discussed tackling is preservation of the Booker T. Washington monument near Carver gym. A chamber committee will meet with the group who owns the land the monument is on to see what work needs to be done and how the chamber can help. Mary Smith said one of the issues with the monument is it needs to be stabilized.
The chamber's next project will be to get a tree for community Christmas celebrations. Teague mentioned the possibility of getting a live tree to plant near city hall. The chamber will sell bulbs for $5 each to hang on the tree as memorials. They will start selling the bulbs after Nov. 1 and will have a community service to dedicate the tree. This service will be announced at a later date.
Chamber board members also approved a design for a chamber shirt featuring an embroidered Marked Tree patch designed by Graphix in Jonesboro. Anyone wishing to purchase a chamber shirt should contact Zach Hatley at Three Rivers Healthcare and Rehabilitation.