Miracle League field opens in Jonesboro
Sunday, November 9, 2014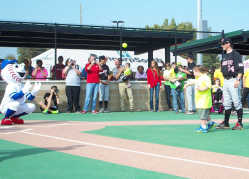 Jonesboro softball coordinator Sharon Turman first learned of the Miracle League ten years ago when she after running across a video. Since that time, she has made it her mission to bring a Miracle League field to Northeast Arkansas. On Saturday, Oct. 25, her dream became a reality as the Miracle League facility opened in Jonesboro.
A Miracle League field is a baseball/softball field especially for special needs children and adults. The field's rubberized surface allows those with walkers and wheelchairs to play ball in a safe environment.
During the grand opening, Miracle League Director Turman said, "This is not about me. It's about those kids. They won't have to stand on the other side of the fence. They will get to play on their own ball field."
The $3.3 million facility, located on the south side of the Jonesboro softball complex, includes a playground with specially designed equipment so any child can play, a quiet room for autistic children, and the largest Miracle League field in the country at 36,000 square feet. The outfield can accomodate other sports such as soccer and flag football. In addition to hosting baseball and softball games for disabled children, the field will be used by the nearby Jonesboro Human Development Center for physical education, a special needs kickball team, and the special olympics.
Earlier in the year, the city of Weiner held a pig roast to help raise funds for the field. Turman said that community raised over $50,000 for the project, and noted the field was meant to serve families in the whole region. Prior to the opening of the Jonesboro field, local families have had to drive up to four hours to find a field for their children to play on.
One mother, Camelia Ballard, whose ten-year-old son Brant has Down Syndrome, said through teary eyes she looked forward to watching her son play ball. "My husband and I have had the privilege of watching our other two boys play baseball for 17 years," Ballard said. "Now it's Brant's turn. I was out here Tuesday watching the Miracle League ambassadors play. Every face had a priceless smile that told more than words can say."
"They may never play in the World Series, but they will play right here," Ballard said.