Lewallen speaks to Trumann Lions
Monday, November 10, 2014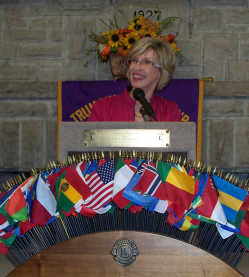 When Mayor-Elect Barbara Lewallen spoke to the Trumann Lions Club prior to the election, she told them her decision to run for mayor came from living, working, and volunteering in Trumann since she and her husband made the city their home in 1963.
"The job of city administration is to support and sustain all areas of the city. All of them," Lewallen said. "I think we need a long-term plan, and the community has to buy into it. It has to be the consensus of the community or it won't be successful."
Lewallen taught English and French until 2004 and was a real estate broker for 20 years. She is currently director of the Trumann Chamber of Commerce and has volunteered extensively both throughout her career and in retirement.
"I've always believed volunteerism is extremely important in a community," Lewallen said. "Volunteer organizations really do make a difference." She said when she and Letha Owens were working in real estate together, they decided they should volunteer and give back to the community any way they could because "we lived in the community. We felt we should support the community as much as we could."
Lewallen spoke about her work in getting the grants for the detention pond and Sims-Talbot Adult Education/Workforce Development Center. She pointed out that several volunteers going door to door surveying residents helped with getting the detention pond grant. Lewallen has also been working on getting grant money for replacing the Community House's roof. Entergy has given $3,000 for the roof and the Co-op gave $1,500. Lewallen said in January, the chamber will apply for a Heritage grant which would be enough to fund the new roof.
Lewallen also spoke about the country's shrinking workforce and the need for skilled workers. "There's a lot about national and state trends that are very important for Trumann," Lewallen said. "The most important person in an economic development plan is the mayor because the mayor and the city council have to be onboard." Lewallen said she wants to support existing industries in Trumann to help them expand, stay, and create more jobs. Lewallen also pointed out the need to concentrate on innovation and entrepreneurship to create more homegrown jobs, citing Roach Conveyors and Lectri-Flo as two examples of this. She also wants to support community development and workforce development. "Those things are economic development. I want to support all those needs," Lewallen said.
"Tax money and grant money can't do everything," Lewallen said. "It takes people working together."