Local church helps with backpack program
Wednesday, November 12, 2014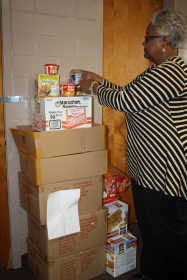 With members looking for a way to serve their community, First United Methodist Church in Marked Tree held a food drive to help with Marked Tree School District's backpack program.
Based out of the Arkansas Rice Depot, the backpack program is a statewide idea that provides children with enough easy-to-prepare and nutritious food to last the weekends, while they are not at school. On Fridays, backpacks are sent home with children who have nutritional needs that are not being met on weekends.
Pat Steel, member of First United Methodist Church, said the members were asked to simply pick up a few extra non-perishable food items for the local school's program when they went grocery shopping. The simple request turned into several bags of food for the school.
"We are very grateful to First United Methodist Church for their food donations," said Bennie Whitfield, Marked Tree School District Social Worker. "They had my office lined up with bags of food for the children."
Whitfield said the children in this program are mostly in elementary school, and the food she sends home is easy to prepare in the event the child is preparing his or her own meal.
The program does not stop at the end of the school year. Whitfield takes all of the food she has in her office and evenly distributes it out to the children enrolled in the program. She helps families find local food banks that can fill the nutritional void.
"It's an overjoying feeling to know that we can reach out and help someone," Whitfield said. "There are children that don't have anything to eat on the weekends, simply because they fell on hard times. It is no one's fault; we all fall on hard times. If the community can come together and fill that void, then we need to do it."
Trumann's Cedar Park Elementary is also working to fill backpacks by hosting a food drive during the month of November. As an initiative for the students, they are awarding the top three homerooms with a party for the most food collected.
Anyone wanting to donate to the local school district's backpack program should contact the school's program coordinator. For the Marked Tree School District, it is Whitfield. She stressed that easy-to-prepare meals are very beneficial to the children, as well as, breakfast bars, packaged fruit, easy-to-prepare soups, canned meat, ramen noodles, and snack food.