Trumann JROTC honors veterans
Saturday, November 15, 2014
The Trumann JROTC held their annual Veteran's Day ceremony, inviting veterans from all over the county with Lt. Col. Michael Henderson as the guest speaker.
Henderson is with the Army National Guard and the 875th Engineer Battalion Commander. He said he has served in the guard for 20 years.
"I can tell you from my personal experiences how truly honored I felt by the citizens of Northeast Arkansas throughout my time in service," he said. "My return home from Iraq, I can very well remember the feeling of gratitude and pride that we all felt as we went through town after town after town seeing the veterans, the school children and the families lining the highways, saluting us."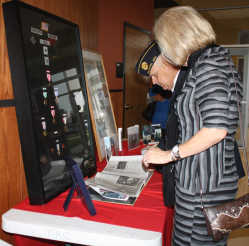 Henderson gave a brief history on Veteran's Day, stating that the tradition began as Armistice Day, to commemorate the surrender of the German forces to the allies in WWI.
"Each year since then, we have celebrated the service of our veterans on this day," he said.
He thanked the school for carrying on the very important tradition of honoring those who have served. He challenged the students of the school to make their life meaningful by making contributions to their community and serving others as the veterans they honored have done.
After the THS band and choir performed salutes to the veterans, the ceremony ended with JROTC students inviting veterans and their families to a reception to enjoy refreshments.