Hornets fall in season finale
Friday, November 14, 2014
The Harrisburg Hornets wrapped up the the 2014 season last Thursday night. Completing their first season in conference 3-4A, the Hornets came into the night on the heels of their first league victory against Brookland. Finishing the season on a two-game winning streak was not to be as Harrisburg lost to the high powered Gosnell Pirates, 75-20.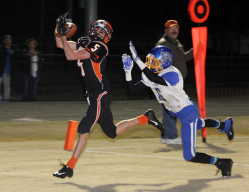 Gosnell (8-1-1, 6-1 3-4A) showed why they are co-conference champs with Pocahontas right from the start. Running back, Carlos Blackman, took the first play from scrimmage, 51 yards, for the score as the Pirates opened a 7-0 lead with less than a minute coming off the clock. It was the first of five scores for the Pirates in the first quarter and the first of seven first half touchdowns for the Pirates, five in the first quarter, and four for Blackman as Gosnell posted 61 points over the first 24 minutes of play. For the half, Gosnell ran just 15 plays, scored touchdowns on six of them, collected 456 yards and held the ball for only three and a half minutes.
Following Blackman's score, Gosnell collected touchdowns from Tiberius Real (27 yard run), Blackman on a 10 yard recovery of a blocked punt and back to back touchdown runs of 48 and 73 yards from quarterback Dwight Griffin to take a 35-0 lead into the second quarter.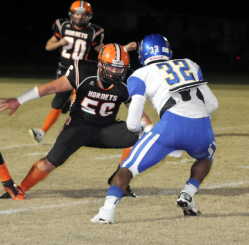 Harrsiburg's offense put up three quality drives for touchdowns in the second quarter. Conner Haag (17-29, 233 yards, 2 TDs, 2 INTs) punched one in from two yards out and connected with Dillon Russell (10 rec., 182 yards and 2 TDs) for scoring strikes of 46 and 17 yards as the Hornets tried to cut into the Pirate lead. But Gosnell answered every Hornet score with a score of their own. In between Hornet touchdowns, Griffin connected with Blackman for a 19 yard touchdown, Brian Anderson ran one in from 21 yards out, Real dashed in from 30 yards out and Blackman closed out the second half with an 80 yard run to run the halftime score to 61-20 in favor of the Pirates.
Gosnell scored twice in the second half to finish of the scoring for the night.
Harrisburg finishes the year with a 2-8 record and 1-6 in the 3-4A.