Lady Wildcats win season opener
Friday, November 21, 2014
Trumann (1-0) got 24 points (12 in the fourth period) from Starlasia Simmons and Taelor Gartman finished with 11 as the the Lady Wildcats beat Marked Tree 52-49 in their season opener in Trumann this past Tuesday night.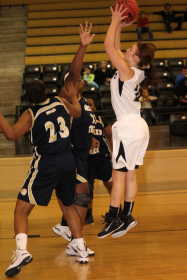 Trumann jumped out a 10-0 lead with Simmons opening the scoring followed by baskets from Deserae Harris, Gartman and Amber Kent before Simmons closed the run with another basket with 4:29 left. Lexi Perry and Tullia Tull scored baskets for Marked Tree around a Gartman three-ball to make the score 13-4. Dez Reel got a steal and a layup for the Lady Indians then hit one of two free throws to cut the lead to 13-7. Simmons hit a jumper and Gartman canned another three to push Trumann's lead to 18-7 with just over a minute left in the opening period. Perry had a conventional three-pointer for Marked Tree, Simmons got inside for a Lady Wildcat basket and Diana Harris scored on a layup for the Lady Indians right before the buzzer to make it 20-12 Trumann.
The second period saw the Lady Indians get hot. A 9-0 run gave Marked Tree it's first lead of the night. Diana Harris drained a three before Tull scored off an offensive rebound to make it 20-17. Tull canned a three-pointer and Perry scored inside to give Marked Tree a 22-20 lead with 3:38 left. Zaria McGuire hit one of two free throws for Trumann before Tull hit a base line jumper for Marked Tree to make it 24-21 Lady Indians. Deserae Harris scored of a fast break layup for Trumann followed by back to back buckets from Perry and Tull as Marked Tree stretched the lead to 28-23. Perry scored off an offensive rebound for the Lady Indians between baskets from Trumann's McGuire and Simmons to make the score 30-28 Marked Tree at the half.
Marked Tree slowed the game down in the third period as they played the stall game a couple times. Perry and Kambria Marshall hit baskets for the Lady Indians around jumper in the lane by Lady Wildcat Deserae Harris to make the score 34-30 Marked Tree with 6:46 left. Kent and Simmons both hit jumpers for Trumann around an inside basket from Marked Tree's Perry to making it 36-34 Lady Indians. Reel got inside for a score and Marshall it a layup at the buzzer to give the Lady Indians a 40-34 lead headed to the final quarter.
The teams traded baskets for the first two minutes of the final period as Simmons netted a three for Truamnn to start the period, Tull converted an old school three-point play for Marked Tree and Deserae Harris hit two free throws for the Lady Wildcats to make it 43-39 Marked Tree. Perry scored back to back buckets for Marked Tree before Simmons reeled off nine straight points for Trumann to put the Lady Wildcats up 48-47 with 2:42 left in the game. Perry scored inside again for Marked Tree to make it 49-48 Marked Tree. Gartman drilled a three-pointer with 42 seconds left to make the score 51-49 Lady Wildcats. Trumann's Hannah Wood hit one of two free throws with seven seconds left making it 52-49 Trumann. Tull's three-pointer at the buzzer went in and out giving Trumann the win.
Perry scored 21 points for Marked Tree and grabbed 14 rebounds as Tull finished with 14 points on the night.