Students entertain fine arts council
Friday, November 28, 2014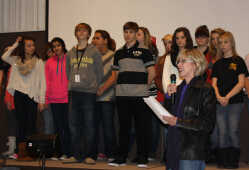 The Trumann Fine Arts Council held their annual program for the public on Thursday, Nov. 13. The meeting was a unique one with several students in the Trumann High School Choir performing pieces from recent musicals put on by the drama department.
Barbara Lewallen, vice-president of the fine arts council, introduced the program stating that the civic organization has been working for the community for over 25 years.
"By arts, we don't always mean just fine arts, we mean anything creative artistically, musically, poetically, in any form," Lewallen said. "The fine arts council tries to enrich people in some way through the arts."
In addition to the choir performing as a whole, THS students Natalie Stuckey and Skylar Hamilton acted out individual performances from the Putnam County Musical. THS students Skylar Byerly and Elle Eaves also performed solos for the program.
In addition to the annual program, the Fine Arts Council hosts several events throughout the year for the community. The major project that members of the council are working on is the revitalization of the Maxie Theater in Trumann. Lewallen said it was donated by the Noels in 2012. Since then, much work has been done on the inside of the structure including cleaning, painting, and removing unsalvageable items. The work done is funded through the council putting on fundraisers throughout the year. When the project is complete, the hope is to open the Maxie to the public with community events showcasing local talent in the arts.
During the program, Marsha Phillips and Linda Smith were given awards for their generosity in years of dedicated service to the Trumann Area Fine Arts Council. Lewallen said both do a tremendous amount of volunteer work for not only the fine arts, but also the community.