Second half surge carries EPC to win
Friday, November 28, 2014
EPC's second half surge carried the Lady Warriors to a 53-47 win over conference rival Marked Tree this past Monday in Lepanto.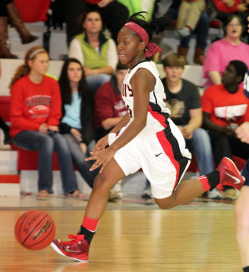 The Lady Indians jumped out to a 6-0 lead with Lexi Perry scoring four points and Tullia Tull adding two free throws. Christian Hinson got a basket off a rebound and Synteria Ward drilled a three for EPC to cut the lead to 6-5 with 1:12 left in the opening period. Tull got inside for a Marked Tree score before Ward scored off the fast break with six seconds left to make the score 8-7 Marked Tree after one.
Ward gave EPC their first lead of the night at 9-8 with a jumper to open the second period scoring. Perry hit two free throws to put the Lady Indians back up 10-9 and that was followed by a Tull basket to make it 12-9 Marked Tree. The Lady Warriors responded with a 9-0 to take an 18-12 lead. Ward started the run with a three-ball, Alyson Phillips hit a fast break and Ward it back to back jumpers to end the run. Perry hit a jumper in the lane for Marked Tree to make it 18-14 before Jaleigha Garrett scored off an offensive rebound for EPC making the score 20-14 Lady Warriors. Marked Tree went on an 8-0 run to take a 22-20 lead at the half. Dez Reel hit a jumper, Diana Harris canned a three-pointer followed by a three-ball from Tull.
After a defensive battle the first half, the teams offenses decided to kick it in gear in the third period as the teams combined to score 35 points. Ward (11 points in the quarter) hit a jumper to tie the game at 22 early in the third period. Tull hit two free throws for Marked Tree before Ward went coast to coast for a scored followed by a jumper in the lane to make it 26-24 EPC. Harris canned a three for the Lady Indians before Hinson scored inside to make it 28-27 Lady Warriors. Tull and Hinson traded baskets as did Perry and Ward only Ward's was a three-ball to make the score 33-31 EPC. Tull tied for Marked Tree with a jumper. Garrett scored off another offensive rebound and Ward scored off a steal to give EPC a 37-33 lead. Harris netted a three for the Lady Indians cutting lead to one before EPC got a lay up from Ward and base line jumper from Phillips to take a 41-36 lead to the fourth period.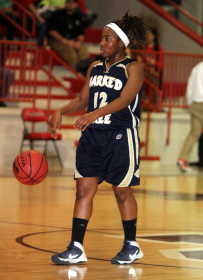 Bailey Constant pushed the Lady Warriors led to 44-36 with a three-pointer just over a minute into the final period. Back to back buckets from Perry and a jumper from Tull cut the lead to 44-42. Ward connected on two free throws before Perry converted an old-fashioned three pointer to make the score 46-45 EPC. Garrett hit one of two free throws for EPC and Perry scored inside for the Lady Indians to tie the game at 47 with 1:30 left. EPC scored the last six points with Constant scoring inside and Ward and Phillips both hitting two free throws each to set our final score.
Ward led all scores with 26 points on the night for EPC.
Perry scored 19 points and grabbed 18 rebounds as Tull netted 17 points with 10 rebounds.