Junior Wildcats take second in Bay tourney
Friday, November 28, 2014
Trumann couldn't find an answer to the Junior Mustangs pressure defense this past Saturday in the finals of the Bay Invitational tournament. BIC held the the Junior Wildcats scoreless in the third quarter as they went on to win 57-27.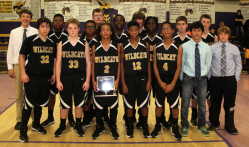 There was added excitement to the game as an altercation broke out between Trumann's Dion Real and BIC's Bill Taylor. This reporter was on the other side of the gym shooting photos when Taylor charged across the half court line and came into Trumann's bench area in an attempt to get to Real. Several parents came out of the stands to help with control of the incident. Taylor was assessed a technical foul but was not ejected from the game, as neither was Real. One Trumann parent was ejected, reason unknown.
In the girls' championship game, Bay stayed close but just couldn't catch the Junior Lady Raiders as they fell 36-28. Nettleton led after each quarter, 12-3, 16-4 and 26-17.