Shelley named to All-Centennial Team
Friday, November 28, 2014
Elbert Shelley was named as a defensive starter on the Arkansas State University All-Centennial Team in festivities held recently at Centennial Bank Stadium.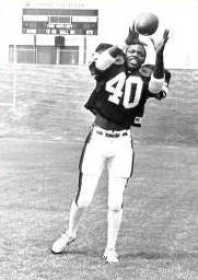 Shelley had a standout career at Trumann High School where he played running back and safety before signing to play college football at Arkansas State. Then Coach Larry Lacewell moved Shelley from running back to defensive back.
Shelley was selected in the 11th round of the 1987 draft by the Atlanta Falcons. Shelley played 10 season in Atlanta making four Pro Bowl teams and three All-Pro teams.
I had the honor of playing one year of football with Elbert. I was a sophomore during Elbert's senior year and it was an impressive show each Friday night. Elbert was a leader on and off the field.
The Democrat Tribune congratulates Elbert for this achievement.