Red Wolves set SBC recrod in blowout win
Thursday, December 4, 2014
Arkansas State University (ASU) (7-5, 5-3 Sun Belt) set a new Sun Belt Conference record for total yards in a game with 764 as the Red Wolves ran away from New Mexico State 68-35 this past Saturday at Centennial Bank Stadium in Jonesboro.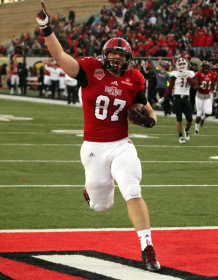 The Red Wolves also paid tribute to 14 seniors playing their last home game of their ASU careers. Brock Barnhill, Dexter Blackman, William Boyd, Artez Brown, Darius Buckley, Tyler Greve, Frankie Jackson, Qushaun Lee, the late Markel Owens, Kenneth Rains, Andrew Tryon, Brennan Tutor, Alan Wright and Sterling Young have played under five head coaches while at ASU.
Fredi Knighten led the Red Wolves offense with 157 yards rushing and two touchdowns while adding 296 yards passing and two touchdowns. Michael Gordon added 149 yards rushing with three touchdowns and also had a touchdown receiving. Johnston White also topped the 100-yard mark with 110 yards rushing for ASU. Tres Houston caught four balls for 102 yards as Kenneth Rains added a touchdown catch.
Money Hunter and Lee led the defense with 11 tackles, 10 and 8 solos respectively. Hunter and Chris Stone each had a quarterback sack. Artez Brown and Tryon each had an interception with Tryon returning his for the final score of the night.
The Red Wolves record setting day consisted of 469 yards rushing and 295 yards passing. The old mark was held by Idaho with 764 yards against Middle Tennessee State in 2001.
Late Tuesday night it was announced the Red Wolves have been invited to the GoDaddy Bowl for the fourth straight year.