Indians finish strong to down EPC
Thursday, December 4, 2014
Marked Tree trialed at the end of every period except the one that counted most. The Indians outscored EPC 19-8 in the fourth period to take a 62-53 between 2A-3 conference rivals last Tuesday before the Thanksgiving break.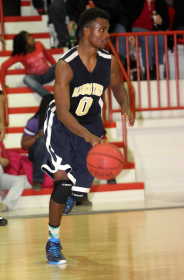 Clay Malone opened the scoring for EPC with a three-pointer to make it 3-0 Warriors. Marked Tree got a jumper in the lane form Nick Andrews and two free throws from Terry Carter to take the lead at 4-3 with 5:52 left in the opening period. EPC ran off the next six points getting baskets from Des Barnes, Aaron Scales and Xzavier Reed to make it 9-4 Warriors. Carter answered with a lay up for Marked Tree before T.J. Young drilled a three from the right wing to make the score 12-6 followed by a Reed fast break lay up off a Scales steal to make it 14-6 with 2:43 left. Marked Tree's Carter converted a conventional three-point play followed by Andrews hitting one of two free throws on consecutive trips to the free throw line to cut the EPC lead to 14-11. Montrell James hit a jumper for EPC with 55 seconds left as D'Angelo Griffin Daniel hit one of two free throws followed by Carter making two free throws to make the score 16-14 Warriors after one.
The game stayed close throughout the second period. Daniel tied the game and then gave Marked Tree the lead at 18-16 with back to back baskets to start the period. Scales hit two of three free throws after being fouled attempting a three-pointer to tie it at 18. Tirek Young's jumper and Carter's one of two free throws put the Indians up 21-18 with 4:28 left. Malone canned a three from the left wing and Zach Maddox put back an offensive rebound to put EPC up 23-21. Tyler Wofford made one of two free throws followed by two free throws from Jaylon Gunn to make it 24-23 Marked Tree. James hit a jumper for EPC making it 25-24 Warriors, followed by Carter hitting two free throws to give the lead back to the Indians at 26-25 only to see Maddox tip one in at the buzzer to make the score 27-26 EPC at the half.
EPC opened the third period with a 6-0 run as Barnes hit a three-pointer followed by Reed hitting one of two free throws then getting a steal and lay up making the score 33-26. Daniel and Malone traded a free throw before Carter scored inside for Marked Tree to make it 34-29 Warriors. EPC stretched the lead to 38-29 with Maddox hitting a free throw and Barnes canning another three-pointer. Braden Hall scored inside for the Indians with James making a lay up for EPC to make the score 40-31 EPC. Daniel hit back to back jumpers to cut the lead to 40-35. Barnes scored inside for EPC before Daniel hit one of two free throws on back to back trips to the foul line making it 42-37 Warriors. Barnes scored off an offensive rebound and Jamal Rodgers hit one of two free throws for EPC to make it 45-37 with 1:09 left. Daniel and Young hit back to back three-pointers for Marked Tree to make the score 45-43 going into the final period.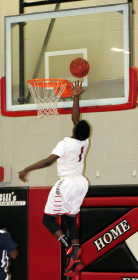 Daniel hit three of four free throws to open the final period putting the Indians up 46-45. Scales connected on two of three free throws after being fouled again on a three-point attempt to make it 47-46 EPC. Carter scored the next five points for Marked Tree with back to back inside baskets while being fouled and hitting the free throw on the last basket to make it 51-47 Indians. James made it 51-49 with a jumper for EPC only to see the Indians reel off the next points pushing the lead to 57-49. Daniel and Cameron Mitchell hit back to back jumpers followed by two free throws from Carter. Barnes hit a three for EPC to cut it to 57-52 with 36 seconds left. Carter was good on two free throws and Daniel hit one of two to make it 60-52 Marked Tree. Malone hit a free throw for EPC and Young scored in the closing seconds for Marked Tree to set the final at 62-53 Marked Tree.
Carter led the Indians in scoring with 23 points followed by Daniel with 21 points.
EPC got 15 points from Des Barnes.